Order your Climate Action Sign
CLIMATE SIGNS DISTRIBUTED
We are at a critical point in our fight to protect our communities and save our beautiful natural environment from climate change. There is still time to act – but it is running out fast! 
Right now we need to demonstrate that Far North Queensland wants bold action on climate. We want our State and Federal MP's to see the call for 'Climate Action Now' with bright yellow signs visible across our region! We have a range of sizes available to suit your needs, so you can put a sign up on your fence, gate, letterbox, wheelie bin, apartment balcony, or at your office or local business.
The best part is that this is happening all over QLD and we are joining together in a powerful movement across the State. Learn more about the history of the Climate Action Now movement here.

By registering for a sign, you will also be added to a monthly newsletter to stay informed on upcoming climate actions and events in your area.
Already got your sign and put it up? Great stuff! Take a photo and either email it to us at climateaction@nullcafnec.org.au or upload it to Facebook and tag us! 
Thank you to ARRCC and AYCC for supporting this project.
Let the Qld Premier Know!
It's crunch time. We know that there is less and less opportunity to limit global temperature rise to 1.5 degrees. We also know that the reef needs that limit to stay healthy. We know that our people and our environment need Climate Action Now. QLD now has the least ambitious emissions reduction plan and at the moment we are predicted to emit 3 X the amount of climated damaging emissions that we can afford to if we want to limit warming. 
Take action today and make a difference! 
Check out the latest Report on QLD's Climate Policy

Sign the petition 

Download our easy to use letter (just add some more detail) and send it to the Premier 

Keep involved and join a Climate Action Group
(click the buttons to the right to take action)
Climate Action Now Gallery
Take a photo of your sign and send it to us at climateaction@nullcafnec.org.au or tag us on social media to be featured on our page!
Join our #ClimateActionNow sign distribution team!
Help us to create a visible demand for climate action in our region by joining our team of volunteers distributing #ClimateActionNow signs to residents living in and around Cairns.
Want to help us get even more #ClimateActionNow signs out on fences, bins and bumpers? Join our team of volunteers distributing signs from Rusty's Market on Sunday mornings!
This space is 100% volunteer led, so if you can't find us at Rusty's, we are short on volunteers that week! Help us make sure we have a presence in our community's favourite weekend destination every week by signing up!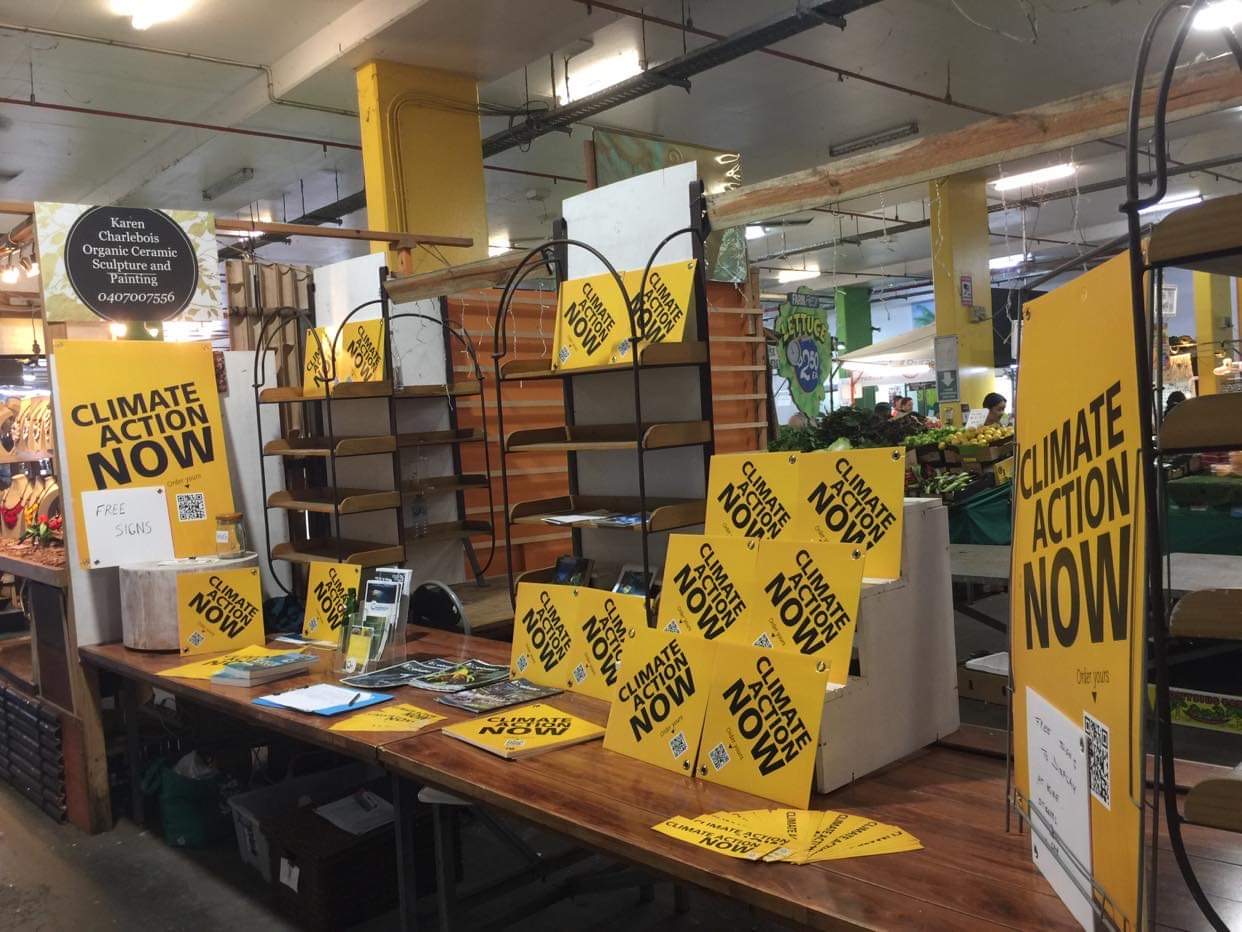 Upcoming Climate Action Events
Climate Action Now is all about action. So apart from putting up a sign on your fence, or sticker on your bin, you can also take action by attending one of the following events! By registering for a Climate Action Now sign, you will also be added to our monthly Climate Action Newsletter list. If you have missed out on past emails, please see below: