Far North Queensland wants Climate Action Now!
We are at a critical point in our fight to protect our communities and save our beautiful natural environment from climate change. The best science tells us that Australia needs to cut greenhouse gas emissions by 75% below 2005 levels by 2030; and to reach zero emissions by 2035. But neither our Federal government nor our State government have made sufficient commitments to do so. There is still time to act – but it is running out fast! 
That's why we need to demonstrate that FNQ wants bold action on climate. We want our decision-makers to see the call for 'Climate Action Now' with bright yellow signs visible across our region! We have a range of sizes available to suit your needs, so you can put a sign up on your fence, gate, letterbox, wheelie bin, apartment balcony, or at your office or local business.
Learn more about the history of the Climate Action Now movement here.
Not in Far North Queensland? No worries! The #ClimateActionNow movement is happening all over the country! Our friends at the Queensland Conservation Council (QCC) will post a sign anywhere in Australia for just $10 – you can order yours here.
Climate Action Now Signs Up in FNQ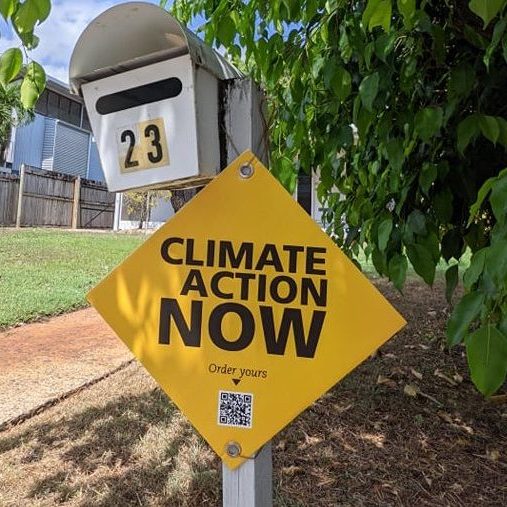 Order your Climate Action Sign
Already got your sign?
Great stuff! You can help spread the word about #ClimateActionNow by taking a photo with your sign and uploading it to your social media. Don't forget to add the tags below so your friends know where to get a sign too.
#ClimateActionNow
Facebook: @cafnec
Instagram: @cafnec
We love hearing stories from our community about why climate action is important to you. If you have a story to share, email it to Bronwyn at climateaction@nullcafnec.org.au.
Let the Queensland Premier know we CAN do better!
Scientists tell us that Australia must reduce emissions by 75% below 2005 levels by 2030; and reach net zero emissions by 2035 in order to limit global temperature rise to 1.5 degrees Celsius. This would reduce the potential for devastating and irreversible damage to the our coastal and island communities, the Great Barrier Reef, our ancient rainforests, and our nature-based economy.
Queensland is lagging far behind other states with an emissions reduction target of 30% by 2030 – which puts us on a climate trajectory that would be detrimental for our region. But the latest report on Queensland's climate policy tells us that Queensland could double its ambition to reduce emissions by 60% by 2030 while creating ~87,000 jobs! Read the report here.
TAKE ACTION
Sign our petition and write to the Queensland Premier to let her know that you want Queensland to be a leader in climate action, not a laggard! Download our letter template below and add some details about you, then send it to the Premier. Learn more by watching our webinar, What's Next For Our Climate?
Climate Action Now Gallery
Take a photo of your sign and send it to us at climateaction@nullcafnec.org.au or tag us on social media to be featured on our page!
Join our #ClimateActionNow sign distribution team!
Help us to create a visible demand for climate action in our region by joining our team of volunteers distributing #ClimateActionNow signs to residents living in and around Cairns.
Want to help us get even more #ClimateActionNow signs out on fences, bins and bumpers? Join our team of volunteers distributing signs from Rusty's Market on Sunday mornings!
This space is 100% volunteer led, so if you can't find us at Rusty's, we are short on volunteers that week! Help us make sure we have a presence in our community's favourite weekend destination every week by signing up!