Events for August
1st
No Events
Events for August
2nd
No Events
Events for August
3rd
No Events
Events for August
4th
No Events
Events for August
5th
No Events
Events for August
6th
No Events
Events for August
7th
No Events
Events for August
8th
5:30 pm - 6:30 pm
Events for August
9th
No Events
Events for August
10th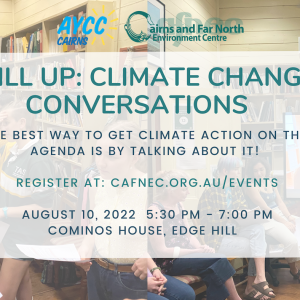 5:30 pm - 7:00 pm
Cairns and Far North Environment Centre
Events for August
11th
No Events
Events for August
12th
No Events
Events for August
13th
No Events
Events for August
14th
No Events
Events for August
15th
No Events
Events for August
16th
No Events
Events for August
17th
6:00 pm - 8:00 pm
Cominos House, 27-29 Greenslops Street, Manunda 4870
Events for August
18th
No Events
Events for August
19th
No Events
Events for August
20th
8:45 am - 11:30 am
Events for August
21st
No Events
Events for August
22nd
No Events
Events for August
23rd
No Events
Events for August
24th
No Events
Events for August
25th
No Events
Events for August
26th
No Events
Events for August
27th
8:45 am - 11:30 am
5:30 pm - 7:30 pm
Events for August
28th
No Events
Events for August
29th
No Events
Events for August
30th
No Events
Events for August
31st
No Events
Events for September
3rd
8:45 am - 11:30 am
We are always searching for more volunteers to supercharge our events. Specific opportunities will be advertised below but to make a general enquiry about how you might be able to help get in touch with Alex, our Projects and Events Coordinator by sending her an email at projects@nullcafnec.org.au.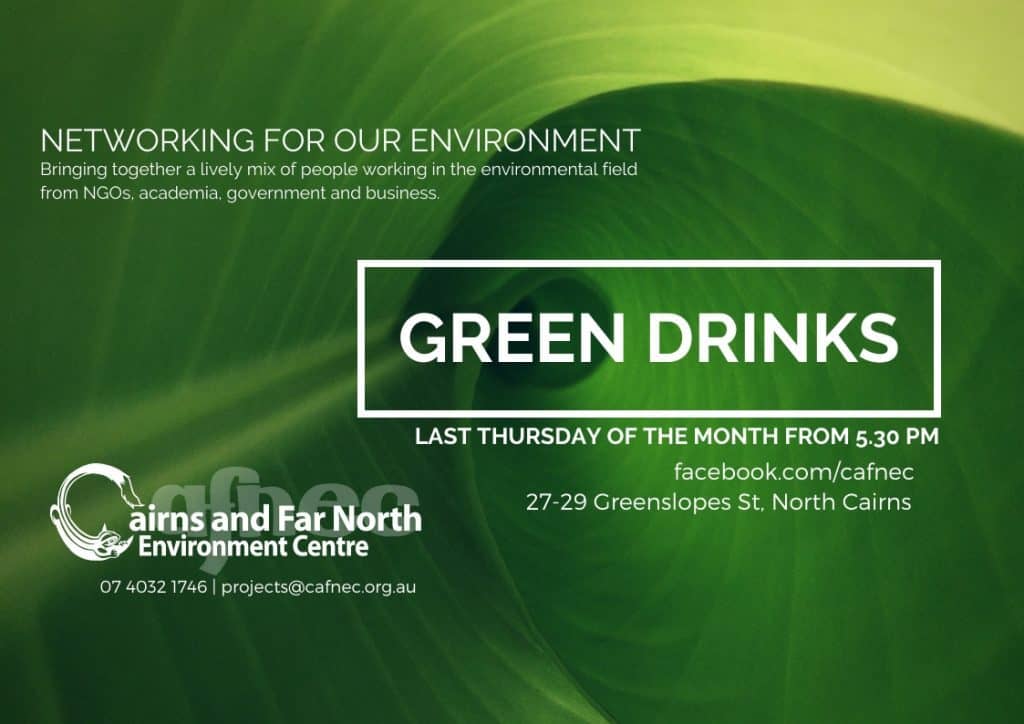 networking for our environment
Monthly Green Drinks
Join us on the last Thursday of every month to meet like minded people. This casual networking event features speakers, music and brings together people from academia, NGOs, government, business and more, who all care for our FNQ environments and community.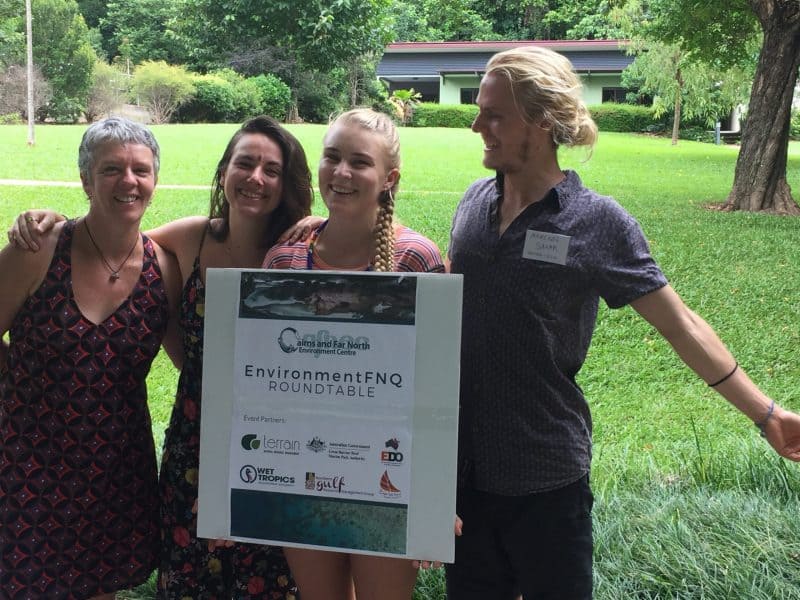 ANNUAL conference

FNQ Environment  Roundtable 
The FNQ Environment Roundtable brings together CAFNEC member groups, members and the broader community together to collaborate and share our collective work for the Far North Queensland (FNQ) environment.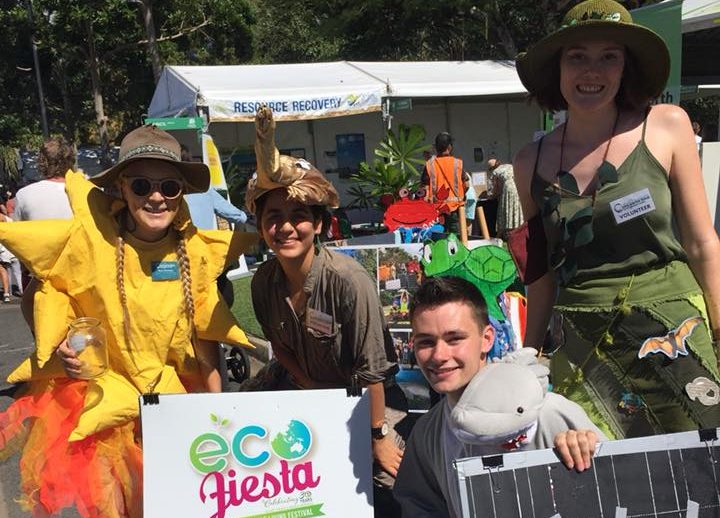 Community Collaboration

EcoFiesta
Every year Cairns Regional Council puts on a day of live music, interactive workshops, free kids activities and a massive expo of green-tech and sustainable living solutions. As a key partner of the festival CAFNEC holds a stall to educate and engage our community in the work we do.
ANNUAL major fundraiser

Far North Wilderness Bike Tour
The Far North Wilderness Bike Tour is CAFNEC's major fundraiser that has been running since 2001! The Bike Tour is an unforgettable 6-days of mountain biking through the spectacular Wet Tropics World Heritage Area in Far North Queensland. Definitely a trip of a lifetime through some of the region's best scenery on wilderness mountain trails.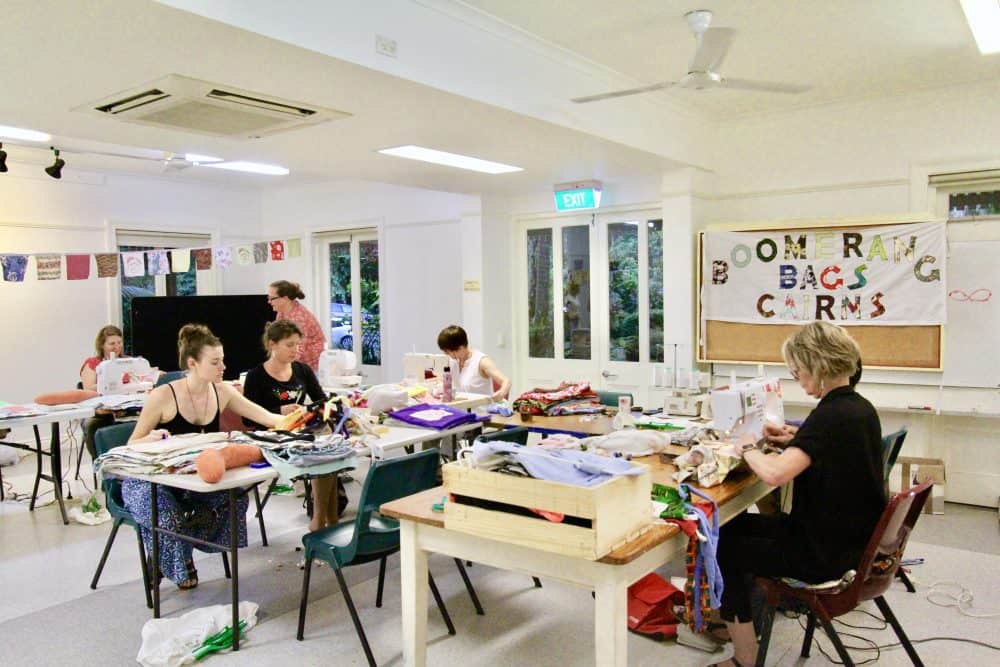 monthly sewing bees

Boomerang Bags Cairns
COVID-19 UPDATE: Boomerang Bags Cairns is now sewing from home. See event page for more details. 
Boomerang Bags Cairns meets on the first Thursday of every month from 4.30 to 8.00 pm to sew Boomerang Bags as a group. We sew, we chat, we drink tea and usually, there is cake too! Got a sewing machine? – Definitely bring it along! Don't have one or can't sew? There are plenty of other jobs and with the expertise present, you can learn to sew too.