Interested in the environment and sustainability?
Come along, relax and enjoy some good company at Cairns Green Drinks – an informal monthly networking event for people working or interested in the environment – everyone is welcome.
The aim of Green Drinks is to encourage networking, creativity and thought on environmental issues and projects. You can come to make new partnerships, learn about ways to volunteer with us, or just learn about a new topic from our guest speakers. Green Drinks is 100% volunteer-run, so we are keen to hear your input too. 
Event Details:
Registrations are no longer necessary.
Join us again in person for Green Drinks! 
When: 5:30 – 7pm, Thursday 28th July 2022
Where: Cominos House, 27-29 Greenslopes Street, Manunda 4870
What to bring: Yourself and cash if you would like to make a donation to our organisation!
About the speaker:
Elizabeth Boloton is an ex army officer with a background the humanitarian sphere and military. She has also gone into the field of sustainability and climate change, completing  her masters of climate change policy which focuses on sustainable freight transport. Elizabeth has also done consulting in this area for government agencies. She then worked in climate risk communication with the Australian Bureau of Meteorology's Pacific Climate Change Science Program and National Climate Center, before earning a PhD. Elizabeth will be speaking about her research into an alternate approach to the threat of climate change. Elizabeth is a military theorist who centers the climate and the environmental crisis as the 'major threat'. She defines climate change as a hyperthreat, and applies new philosophical constructs, fused with security planning fundamentals to develop concepts for a hyper-response, or 'PLAN E.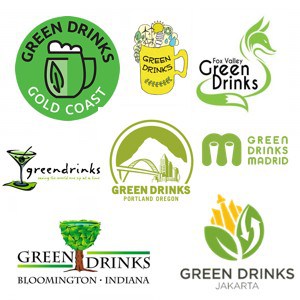 Green Drinks is an international phenomenon; check out the Green Drinks Website to see how many cities all over the world host a Green Drinks event.
Green Drinks happens thanks to a lot of behind-the-scenes work of volunteers. They contact speakers, find musicians, source drinks, and much more. Email projects@nullcafnec.org.au or chat to us if you'd like to join the team!