Cairns' water security is at risk
It's difficult to think that Australia's Wet Tropics may be at risk of a water security crisis, but Cairns Regional Council has told us that we are at 'real risk of a drinking water shortfall by 2026'. What they mean is that Cairns' demand for water is projected to surpass our current supply of water. A crisis like this can be solved by lowering our demand for water or by increasing our supply of water.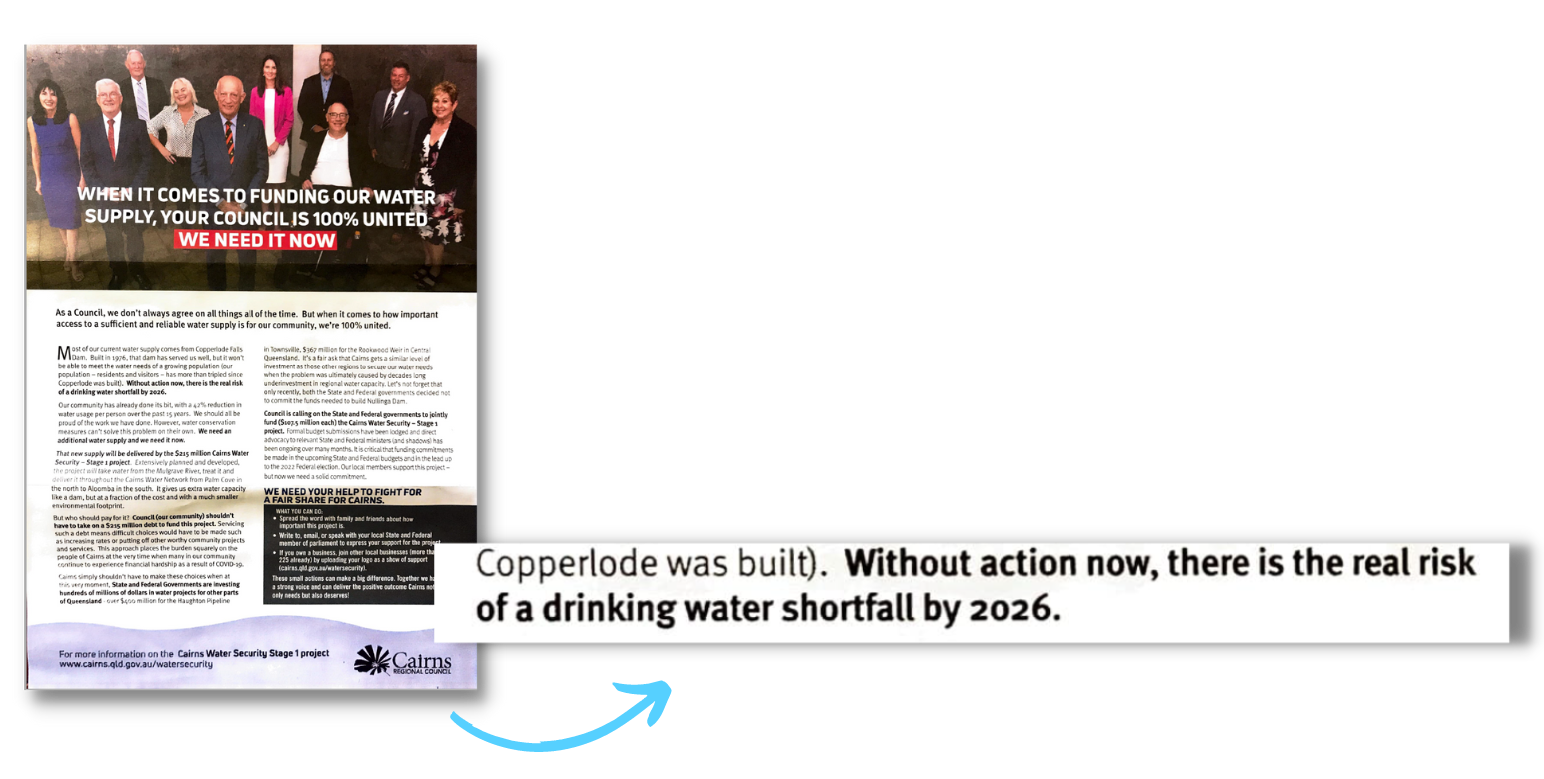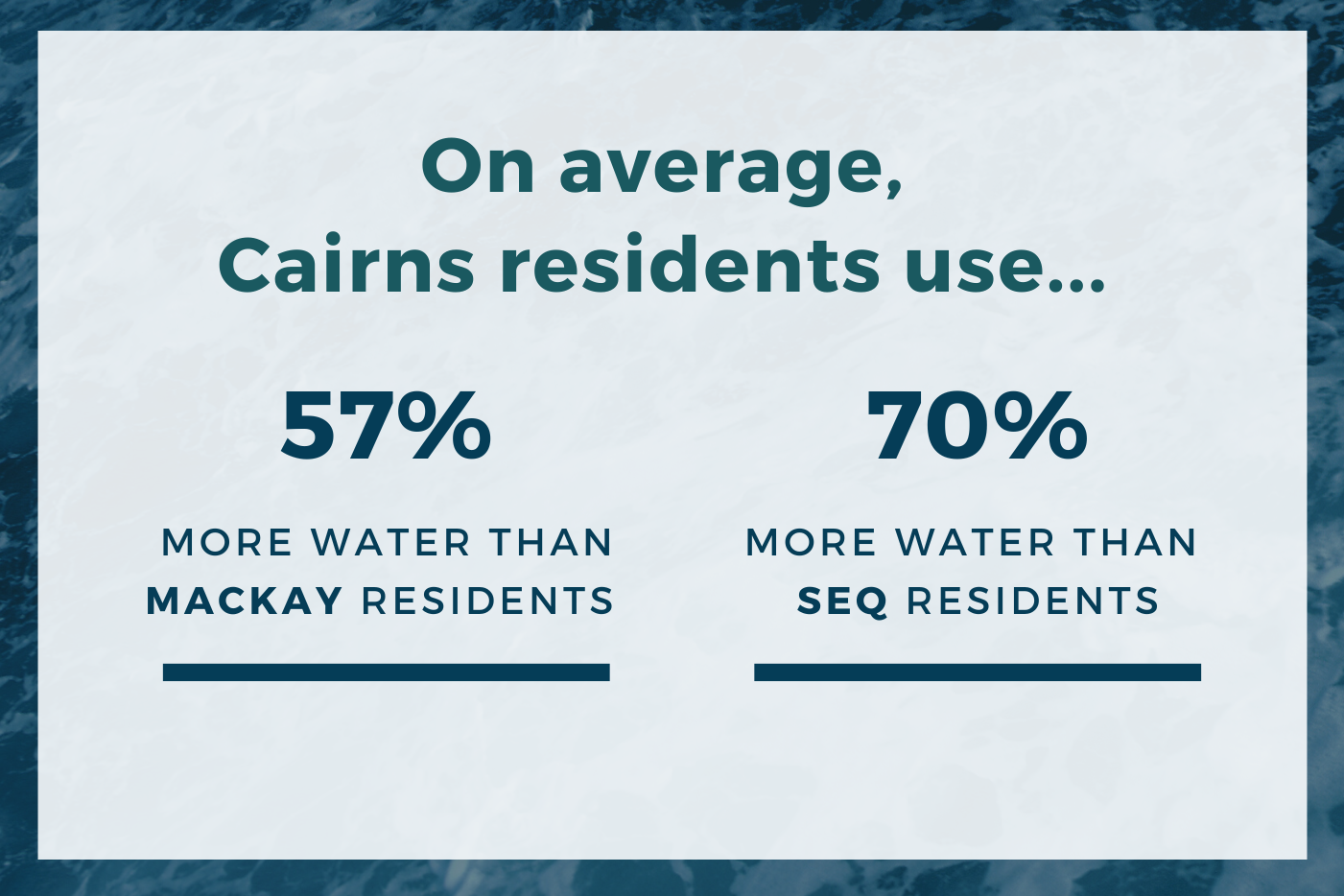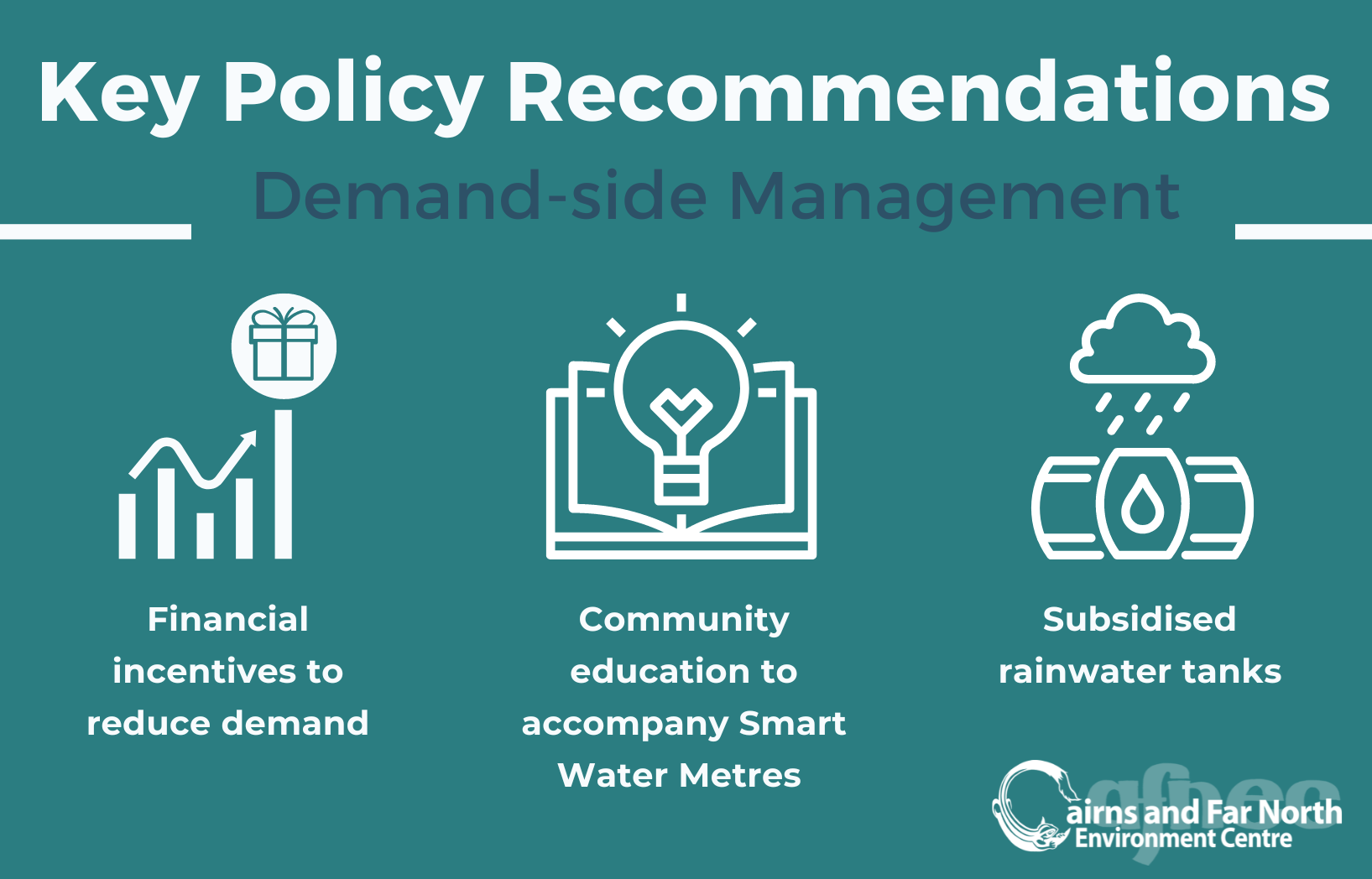 Water usage in Cairns is higher than would be expected for our region
Both Cairns and Townsville have significantly higher rates of residential water usage compared to Mackay, South-east Queensland (SEQ), and the Queensland-wide average. Cairns residents use 57% more water than Mackay residents and 70% more than residents of South East Queensland.
Even when we take into consideration the likely influencing factors on our high water usage, such as rainfall data, water service charges, dwelling types and building approvals, our daily water use per person in Cairns is higher than would normally be expected. This indicates there may be significant untapped opportunities for demand management.
Based on the results of the Cairns Water Comparison Analysis (2022) report commissioned by CAFNEC, we can recommend the following policies to help reduce water usage in Cairns:
Financial incentives to reduce demand;
Community education to accompany the rollout of Smart Water Metres by Cairns Regional Council; and
Rainwater tanks for household use.
Despite our high usage, Council has delayed progress on their Demand Management Strategy (2015)...
Cairns Regional Council has a Demand Management Strategy, but has neglected to make a start on 14 of the 19 actions outlined in the strategy since its inception in 2015. Council started a community water education program then promptly cut spending on it, allowing their water education team to fold. More recently, Council stopped including water usage data in State of Environment reports and delayed implementation of the smart water metre initiative in favour of the Esplanade development. Furthermore, CRC's Demand Management Strategy (2015) outlines a goal for reducing water demand to 377 litres per person per day by 2025/26. This is only a 10% reduction over 10 years. For context, South East Queensland was able to reduce their water usage by 53% in just 3 years during the Millennium Drought.
Instead, Council is pursuing expensive infrastructure solutions to increase our water supply...
This past year, Cairns Regional Counil started a campaign to receive $215 million in funding from State and Federal governments for their Cairns Water Security Strategy – Stage 1 Project proposal which seeks to build infrastructure to source water from the Mulgrave River and increases the volume of water being drawn from CRC's existing Behana Creek water supply. 
They have successfully secured State and Federal funding for the project. 
CRC has yet to release their Detailed Business Case for the project, so we haven't seen evidence of their efforts to ensure the least possible impact to ecological flows and cultural flows, nor protect the cultural heritage of the Traditional Owners, the Dulabed and Malanbarra Yidinji peoples. 
Scorecard valid as of September 2022. 
We believe the Cairns community deserves transparency and accountability in the management of our precious freshwater resources.
COMMUNITY WATER FORUM
On October 20, 2022, CAFNEC hosted a Community Water Forum at James Cook University to inform and consult key stakeholders, including Traditional Owners, and the broader community in how our water crisis is being addressed.
We are now asking the community to share their thoughts on the proposed solutions to our water crisis in a Community Poll. We recommend watching the livestream before completing the poll although it is not a requirement.
The results of the poll are completely anonymous and are being shared with Cairns Regional Council.
The event featured the following speakers and stakeholders:
Division 1 Councillor, Brett Moller & David Stevens, Executive Manager Major Projects, Cairns Regional Council (CRC)

Nigel Parratt, Water Policy Officer, Queensland Conservation Council (QCC)

Bruce Corcoran, Member of Mulgrave Landcare and Catchment Group (MLCG)

Bronwyn Opie, Community Campaigner, Cairns and Far North Environment Centre (CAFNEC).

Steve McDermott, Manager at Dulabed and Malanbarra Yidinji Aboriginal Corporation

Dennis Ah-Kee, Wanjuru Elder of the Russell River catchment and owner of Jaragun Ecoservices
Register for updates on our water advocacy work
 More about the Problem
There has been an increasing push from federal and state governments to increase water infrastructure in Far North Queensland. These include 
There are also water plan reviews that are happening in the region 
The Regional Water Supply Security Assessment for the Southern Atherton Tablelands 

The Barron River Water Plan Review
Regional Water Assessment
SEQ Learnings Millennium Drought