The Cairns and Far North Environment Centre (CAFNEC) have confirmed an impressive and diverse line up of speakers for presentations and panel discussion at the upcoming community forum on Cairns port dredging, 6:30 24th September 2014 at the Cairns Choral Society 31-33 Greenslopes St, North Cairns.
CAFNEC is proud to be able to bring a mix of local and interstate environmental, scientific and tourism professionals together for what will be a highly informative evening.
Dredging in Queensland is a hot topic and the release of the environmental impact statement for the Cairns dredging proposal expected soon. It is therefore very timely for the Cairns and Far North community to come together and learn more about what is proposed.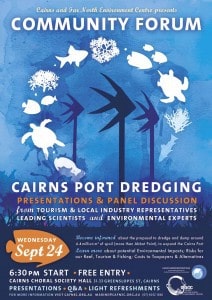 EVENT DETAILS:
When: 24th September 2014, 6:30 pm start
Where: Cairns Choral Society hall, 31-33 Greenslopes Street, North Cairns.
What: Presentations and panel discussion from tourism and local industry representatives, leading scientists and environmental experts.
Presentations, Q&A, light refreshments provided, free entry.
The line-up of speakers is as follows:
Jon Brodie
Jon Brodie is a Chief Research Officer with the Centre for Tropical Water & Aquatic Ecosystem Research (TropWATER), James Cook University, Townsville. For 11 years he managed the Water Quality Research and Management Program of the Great Barrier Reef Marine Park Authority (GBRMPA).
Professor Richard Bush
Richard Bush is a founding Director of Southern Cross Geoscience, a Special Research Centre of Southern Cross University, and Professor of Water Research. Over the past decade Professor Bush has focused on coastal floodplain management and in particular, the international issue of acid sulphate soils and has worked extensively on East Trinity acid sulphate soil remediation.
Col McKenzie, Executive Officer of the Association of Marine Park Tourism Operators.
Col is the Executive Director of the Association of Marine Park Tourism Operators, a position he has held for more than 10 years.  He has been a member of the marine tourism industry for 32 years and represents the industry on 38 different boards, forums or committees.
Felicity Wishart
Felicity Wishart is the GBR Campaign Director for the Australian Marine Conservation Society, leading the Fight for the Reef campaign against impacts of rapid industrialisation.
Mark Fraenkel
Mark is the owner /operator of Blue Dive, Port Douglas and an active member of the tourism business community. He has a long history of dive tourism and training and has won awards for his environmental work including underwater clean ups and coral restoration
Denis Walls
Denis Walls is a well-known social and environmental commentator and campaigner. Since the early 1990s he has been active in protecting Trinity Inlet from inappropriate developments.
Mike Friganiotis,
Mike will be the MC and panel discussion facilitator for the forum. Mike is currently the Community Education and Development Officer and Vice-President of the Board of Management at Far North Queensland Relationships Australia. Mike is also a broadcaster at Cairns Community Radio.
Josh Coates
Josh is the Marine Programs Coordinator with the Cairns And Far North Environment Centre (CAFNEC). A qualified Marine Biologist, Josh has many years of experience as an environmental educator, campaigner and advocate. Josh is actively engaged in the issue of dredging and marine conservation in FNQ.
The event is supported by the CAFNEC Marine Response Team volunteers who are working hard to organise and raise funds to hold the event.
The forum is an opportunity for the people of Cairns and the Far North to learn more about the risk to the Great Barrier Reef and other potential environmental impacts; the risks for our tourism and fishing industries; the cost to taxpayers; and the potential alternatives.
Media contact: Josh Coates, Marine Programs Coordinator, (07) 4032 1586, marine [at] cafnec.org.au
Posted in