MEDIA RELEASE:
In scathing criticism of the Draft Reef 2050 long term sustainability plan for the Great Barrier Reef the country's leading scientific academy has called for Governments to move away from a 'business as usual' approach to reef management.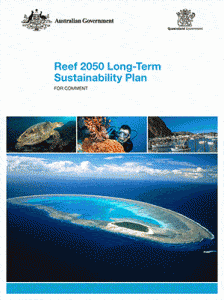 The Reef 2050 report was commissioned after UNESCO demanded Australia come up with a plan to protect the future of the reef, and are considering whether to list it as a World Heritage site in danger.
"CAFNEC is today backing the Academy of Science who has echoed many of our criticisms of the Reef 2050 plan. We share the views of Professor Terry Hughes, an academy fellow who contributed to the submission in saying "This is a plan that won't restore the reef, it won't even maintain it in its already diminished state".
"We recently organised the Reef Hour event in Cairns to let people know about the plan and encourage feedback and we had a great response. Hundreds of Cairns and Far North residents provided feedback on the plan and were assisted by the information we provided."
"Key criticisms of the plan include the failure to address the protection of our relatively healthy northern reef and to prevent repeating mistakes made further south and the failure to prohibit new dredging and dumping within and adjoining the World Heritage area."
"We should not be undermining work being done to improve reef water quality through a reduction in run‑off from reef catchments, or the government funding being spent to do so, by funding and allowing new dredging and dumping."
"The plan in its current form ignores the big issues of climate change; the legislative and policy agenda that is allowing more clearing; and a conflict of interest in development approvals where the State Government is both the proponent and environmental regulator of potentially damaging developments."
Mr Coates concluded: "We call on everyone with an interest in the future of the reef to maintain the pressure for real outcomes from a revised plan, not just spin to placate the World Heritage Committee. Talk to your friends, learn from the scientific experts and let your politicians know we want real change not just a plan for more planning."
Media contact: Josh Coates, Marine Programs Coordinator, (07) 4032 1586, marine {at} cafnec.org.au 
Posted in