The Reef Hour – Election Special event will feature political candidates discussing their positions on issues relevant to the protection of the Great Barrier Reef.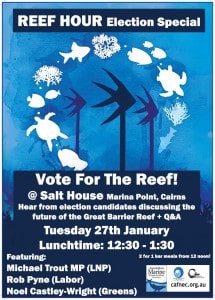 Event Details:

When: Tuesday 27th January. 12:30 – 1:30pm
Where: Salt House, Marina Point
Who: Micheal Trout MP (LNP), Rob Pyne (Labor candidate), Noel Castley-Wright (Greens candidate)
What: Introduction to the issues from CAFNEC, Short talks from candidates, Q&A. 

Free to attend. 2 for 1 bar meals available from 12 noon.

CAFNEC Marine Programs Coordinator Josh Coates said:
"We are continuing our very successful Reef hour event series with an 'Election Special' in the week before Queenslanders go to the polls.
The protection of the Great Barrier Reef is a crucial election issue and this event is an opportunity for candidates to clearly articulate their position on a range of issues in relation to reef protection.
We are actively encouraging Far North Queenslanders to 'vote for the reef' this election and as part of that we are giving the politicians the chance to outline and defend their policies.
Issues discussed will include the Cairns Port dredging proposal, the development of the Reef 2050 plan and the threat of 'World Heritage in Danger' listing, coastal development, land based impacts such as agricultural runoff , fisheries management, protection of vulnerable species such as dugong and turtle and the issue of climate change impact on the reef.
The reef is clearly the highest profile environmental issue this election and reef health is extra important to us in the Far North. We expect a very informative session, interesting questions and a great opportunity for the community to hear directly from the local candidates and for media to report the positions of the parties in relation to the reef and FNQ."
Posted in