Cairns community deserves to know who is behind the dredging campaign after a billboard mysteriously emerged in the local parade and petitions appeared in the local library.
Josh Coates Cairns And Far North Environment Centre (CAFNEC) Director said questions need to be answered about the process by which the float was entered in the parade, who was behind it, how it was being funded and whether there were any links between the Council and those who will financially benefit from the billboard.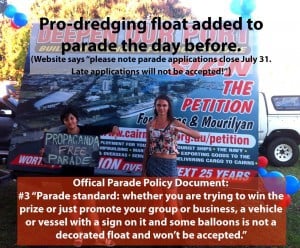 Josh Coates CAFNEC Director said:
"How did this billboard come to be included to the Festival Parade? It is our understanding that political advertising is not allowed as part of the parade's policy. On ABC local radio's drive program the Mayor admitted that the float in question was added late to the Cairns Parade stating that "An application was made late on Friday afternoon and this was dealt with at management level".
The Council's application process clearly states "parade applications close July 31. Late applications will not be accepted!".[i]
The float in question consisted of a towed billboard with a few balloons attached, however the parade guidelines, (also published on the council website) state: " Parade standard: whether you are trying to win the prize or just promote your group or business, a vehicle or vessel with a sign on it and some balloons is not a decorated float and won't be accepted."[ii]
Mr Coates went on to say:
"When we approached the billboard at the parade to take a photo the response was hostile.
"The community deserves to know what's going on here. We're being told that unless we accept dredging there won't be any jobs.
"This is misleading. New dredging puts our natural assets such as the bay and reef at risk, we are actually risking tourism jobs if this is pushed through. Dredging could create economic benefits for very few people. What we want to know is, are they behind this campaign?
"We also must ask if it is appropriate that pro-dredging petitions are being displayed in public libraries, in some cases against the will and better judgement of library staff.  We have been told that the order came from high up in council and we think this warrants investigation.
"What concerns us is that there are a select a few people who will profit significantly from dredging. We are worried that these people are creating false hope in the community over false promises of employment to make them accept unnecessary dredging and damage to the Reef.
"We will continue to be prosperous if we protect our natural assets, not dredge as much as we can as quickly as possible," said Mr Coates.
A petition against the dredging can be signed here. 
Media contact / interviews:  Josh Coates, CAFNEC Director, (07) 4032 1586,  director [at] cafnec.org.au
[i] "Finally please note parade applications close July 31. Late applications will not be accepted!" : Source  http://www.cairns.qld.gov.au/festival/news-events/news/items/2015-grand-parade-applications-are-open
[ii] "Parade standard: whether you are trying to win the prize or just promote your group or business, a vehicle or vessel with a sign on it and some balloons is not a decorated float and won't be accepted."
http://www.cairns.qld.gov.au/__data/assets/pdf_file/0014/133421/Cairns-Festival-2015-Grand-Parade-Float-Guidelines.pdf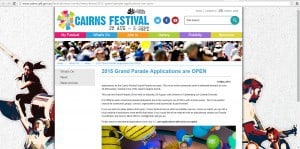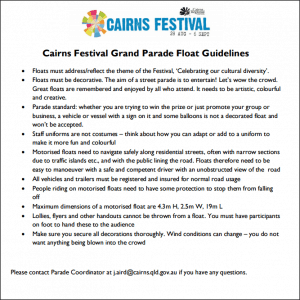 Posted in