By Mariasole Bianco, CAFNEC Marine Campaigner
This is an historic time for Australia's contribution to global ocean conservation. The recently announced National Representative Network of Marine Reserves will ensure that 3.1 million km2 of our ocean will be protected and managed primarily for biodiversity conservation.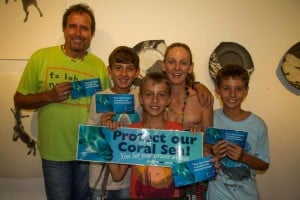 This is major step towards creating some balance and ensuring healthy oceans for the future. The Coral Sea has been defined as the 'jewel in the crown' of this network, not only because of its outstanding biological values, but also because of the astonishing level of support and input from the community in the effort to safeguard this marine treasure for future generations.
Historically the oceans have been considered immune to human impact and available for unlimited exploitation by all. The first recognition of the profound impact of human activities on marine ecosystems came during 1960's, 200 years after the same concerns were expressed for the terrestrial environment.
A surge of public concern for the marine environment led the international community to identify guidelines, such as the establishment of systems of national and regional representative marine and coastal protected areas, to achieve ecologically sustainable management of marine resources and protection of marine biodiversity.
These guidelines were incorporated into the Australian legislative framework in 1998, when the Commonwealth and State and Territory governments committed to the creation of a National Representative System of Marine Protected Areas (NRSMPA) by 2012.
Marine protected areas are internationally considered as one of the most effective management tools to manage marine resources and to ensure long-term conservation of marine biodiversity while allowing for sustainable use. This is achieved through zoning which defines the type and level of activity permitted in each zone.
Marine Protected Areas provide a range of benefits for fisheries, local economies and the marine environment. Whilst many of these benefits are obvious to the scientific community, it can take a long time for these benefits to become obvious at the local level, especially within the fishing industry.
Research reveals that within marine reserves, in particular within 'no-take' marine national park zones (green zones), there is a rapid increase in populations of exploited species and an increase in the size and number of individuals of those species.
If a female fish grows twice as large, on average she will spawn eight times as many eggs. If allowed to grow four times as big, egg production will be sixty four times higher. In addition, the eggs of older females are of better quality and so have a better chance of survival.
Within green zones, fish produce more eggs that are then carried by the current into neighbouring areas and, as they grow bigger and need more space, fish move out of the green zones to zones where fishing is allowed.
Large scale protected areas are needed, not only along coasts but also in the open ocean. In fact large oceanic marine reserves are one of the missing elements in global ocean conservation, especially considering that in the last 50 years overfishing has reduced global populations of large ocean predators like tuna, billfish and sharks by 90%.
The Coral Sea is, in this regard, a beacon of hope. It is considered a biodiversity hotspot for these large oceanic fish and it contains 49 different habitats and supports 341 species which are globally threatened with extinction.
The protection of this special and important part of Australia will provide a globally significant ocean legacy for generations to come and it represents a big first step towards a better future for our oceans and our communities, since the ocean is the common heritage of all mankind.