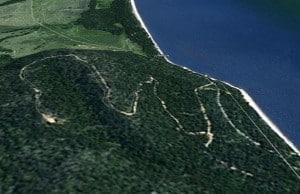 By Russell Constable
In December 2012, Federal Environment Minister Tony Burke approved the Ella Bay Resort Development near Innisfail. Over 1,000 local people contacted Minister Burke urging him to reject this inappropriate development on various grounds, including that it would put endangered species and communities at risk. For more information visit www.cafnec.org.au.
There was little comfort in Ministers Burke's assurances that he was happy to approve Ella Bay because it "will occur on an existing cleared site". Furthermore this doesn't ease my concerns over the proponent's adjoining 65 hectare "Little Cove" rainforest development directly to the south of the approved Ella Bay Resort development, which will see significant areas of a critically endangered ecological community degraded. This area is predominantly remnant vegetation, including significant areas of the critically endangered Littoral Rainforest and Coastal Vine Thickets of Eastern Australia – listed under the Environmental Protection and Biodiversity Conservation Act 1999 (EPBC Act). However, this development is exempt from assessment under the EPBC Act because a Council approval was issued before this vegetation type (littoral rainforest) was listed in 2008.
The Little Cove development was granted Council approval for 70 rainforest blocks and 30 sites for villas. These blocks were placed on the market for up to $2.2 million each in 2006, but the project was then put on hold due to the global economic downturn. But back to the more recently approved Ella Bay Resort development…..
How many people know that the proponent did not disclose the recorded presence of two nationally endangered frog species at Ella Bay? The proven presence of these two EPBC listed endangered species was used in an online video to promote the development.[1]
How do we accept the proponent's assertion that Ella Bay turtle nesting is "unviable" when a documented hatching survey by Ma-Mu aboriginal people just metres from Ella Bay Road proved an exceedingly high success rate (108 hatchlings from 109 eggs)?[2]
The Ella Bay access road is destined to become a ticking time bomb for endangered southern cassowaries. The speed limit along the major part of the Ella Bay road will be increased from 40 km/h to 60 km/h. Upgrading what is currently a narrow unsealed corrugated road into a two lane sealed road will encourage higher traffic speeds. This has been the case at Mission Beach, where cassowary roadstrike fatalities continue to occur. The more than four kilometres of shade cloth cassowary fencing earmarked for parts of the Ella Bay Road remain untested on wild cassowaries and will demand expensive long term repairs and maintenance. The associated cassowary escape gates are a substandard Canadian deer gate, totally untested on wild cassowaries.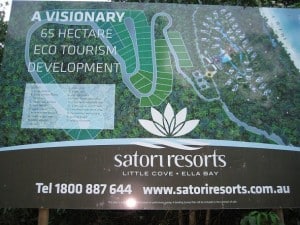 Regarding fencing/escape gates the precautionary principle has been abandoned with no alternative cassowary road protection strategies available. The Wongaling Corridors Fauna Crossing Report states "To date, there has been no evidence to suggest that the underpasses are consistently effective for cassowaries and recent tracking suggests otherwise" (pers comm, M. Goosem, 2008).[3] Why are endangered cassowaries being used as Guinea pigs at Ella Bay?
Looking within the residential precincts, the vertical "pool fence" style fencing is totally unsuitable and dangerous for cassowaries according to the Australian Society of Zoo Keeping.[4] Once these residential areas are occupied the inevitable negative human/cassowary interaction will mean removal/relocation of "offending cassowaries". A removed Ella Bay cassowary is undeniably the ecological equivalent of a dead cassowary.
Ella Bay has historically proven to be a cyclone corridor unsuitable for high population densities. One hundred Chinese Banana farmers totally abandoned hundreds of hectares of farms at Ella Bay after a devastating cyclone in 1906 and the area was never farmed or settled again in such a manner. A lesson learned but now forgotten?
The State and Commonwealth Governments have placed conditions on their Ella Bay approvals (37 and 19 conditions respectively). The sad fact is that historically these conditions are often neglected once a project is completed or abandoned. One only has to look south toward Mission Beach and Port Hinchinbrook or north at False Cape for confirmation.
Environmental concerns remain unaddressed. Optimism is not a word that comes to mind when one looks at what is planned for this beautiful wilderness. Ella Bay is still one hell of a bay to give away.
---