2015 has been a big year for CAFNEC
From campaign wins, to new staff and Management Committee members to help us protect the FNQ environment, as well as some highly successful events, we'd like to celebrate our highlights of the year.
1. 'No New Dredging' campaign wins
2015 was another big year in our work to protect the Reef and our bay from the impacts of proposed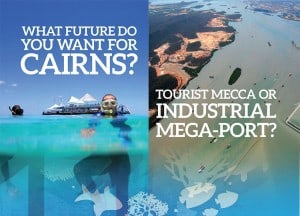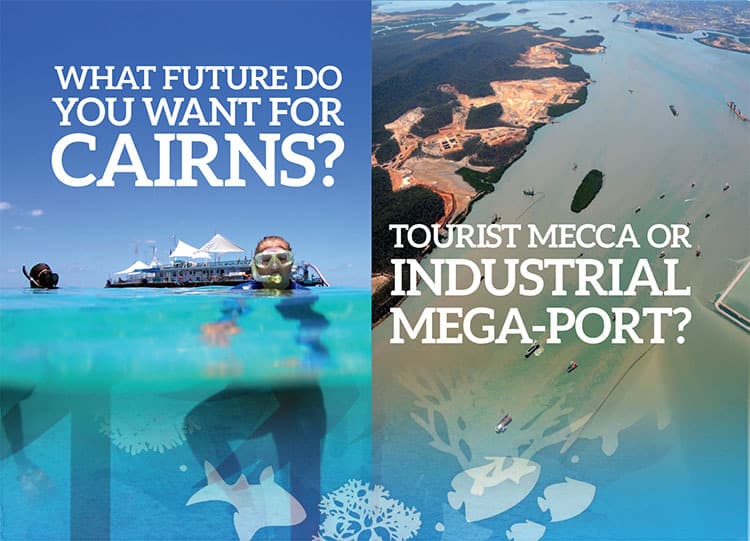 environmentally damaging, unnecessary and uneconomic major new dredging works in Cairns. This year we saw the new State government reject funding for the proposed dredging on both environmental and economic grounds, legislation preventing dumping of capital dredge spoil in our marine park, the passing of the Sustainable Ports Bill, as well as the release of the Reef 2050 plan – all of which contributed to the reprieve from the potential World Heritage Committee listing of the Great Barrier Reef as 'in danger'.
CAFNEC can be very proud of the role we have played in educating the public on this issue and countering the well-funded pro-dredging campaign driven by a few vested interests. If a revised dredging EIS comes out next year CAFNEC will again have a role to play in protecting our marine environment.
Read more about our campaign here.
2. CAFNEC Queensland Election Campaign 2015
Massive thanks to all the volunteers, Management Committee members and CAFNEC supporters who contributed to a successful election campaign period in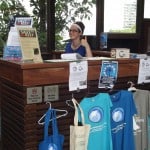 January. Through our election work we helped put the environment and especially the Reef firmly back on the political agenda where it belongs. We achieved some important environment political promises from the Labor party, who formed Government. We built new links in the community, re-engaged with long term supporters and yes, even made new friends along the way.
Particular thanks must go the CAFNEC Marine Response Team volunteers in Cairns and Port Douglas. The team led our community engagement and were fantastic from the banner and placard painting, to the huge letterboxing campaign, through the Rusty's market information stalls to the Reef Hour event, despite the heat, despite the short time frame and inconvenient timing of the 'snap' election.
3. Cairns People's Climate March
Our final big event for 2015, the Cairns People's Climate March, was organised by CAFNEC and the Cairns Climate Action Network and attracted more than 400 people on 28 November. We marched as a colourful parade along the Esplanade and jumped in the Lagoon, showing strong and passionate support for strong political action to set targets to reduce global carbon emissions, in the lead-up to the Paris climate talks. Read more and check out fabulous photos from this successful event here. 
4. 100 local businesses signed our Open Letter against increased dredging
Just one of the many actions we undertook to demonstrate community concern about new dredging in Cairns was our Open Lett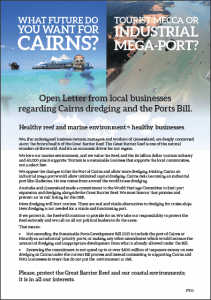 er from local businesses regarding Cairns dredging and the Ports Bill. Over 100 businesses have already signed the letter, which was printed in several two full-page ads in the Cairns Post, timed around the voting on the Sustainable Ports bill. CAFNEC values our relationships with the FNQ business community and we thank those who had the strength of conviction to publicly support our work. Huge thanks also to the thousands of individuals who signed postcards, petitions or sent emails to politicians – together we made a real difference.
5. A new Management Committee elected in October 
At the CAFNEC AGM in October four terrific environmentalists were elected to our Management Committee. Kerryn O'Conor has had extensive experience in the environment movement especially with the Wilderness Society. Roz Walden and Lucy Graham have been actively engaged in Cairns issues through CAFNEC's Marine Response Team and Luke Preece comes to us with wide-ranging knowledge of Cape York. We welcome them all knowing that they will be excellent additions to our already strong CAFNEC management team. Find out more about our current Management Committee here.
In 2015 we also farewelled one of our longest-serving Management Committee members ever. After 23 years as CAFNEC's "venerable Treasurer" (Denis Walls), Michael Bryan resigned from the Committee and we held a commemorative celebration lunch for him in August. Attended by CAFNEC staff, coordinators and volunteers past and present, this event was a joyful celebration of Michael's dedication, talents and integrity over the years.
6. Marine Response Team: the new Cairns Drain Stencil Project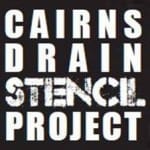 Our community volunteer group – the CAFNEC Marine Response Team – are excited to be coordinat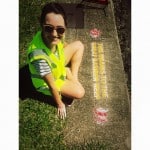 ing the Cairns Drain Stencil Project with the support of the Cairns Regional Council, the Great Barrier Reef Marine Park Authority and the Local Marine Advisory Committee.
This positive, on-ground project gets the Cairns community working together to protect our waterways, ocean and Reef by stenciling messages on drains to raise awareness of urban stormwater pollution and its impact on our local marine environment.
To get involved in the project and/or join the team head to www.marineteam.org . If you're interested in supporting the project as a sponsor please contact getinvolved@nullmarineteam.org for a sponsorship prospectus. You can see great photos from our stencil sessions around Cairns at the CAFNEC Marine Response Team Facebook page.
7. Net Free Zone campaign
CAFNEC has long supported the introduction of net free areas in sensitive areas and areas subject to heavy human environmental pressure along the Queensland coast. CAFNEC helped to achieve an election commitment from the then Labor opposition in Queensland to commit to three net free areas in Queensland, including Trinity Bay. These Net free Zones are now in place.
We have worked closely with the local recreational fishing group CAREFISH to support the campaign to introduce a net free area for Trinity Inlet (Cairns) and surrounds, as well as other areas. This represents a big win for the marine life and people living in and around Trinity Inlet.
8. Yet another successful Far North Wilderness Bike Tour
The 2015 tour proved an outstanding success from all angles! Riders described it as the experience of a lifetime! Volunteers put together a fantastic eight day event that ra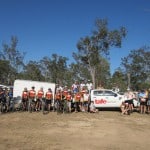 ised funds for CAFNEC. And some awesome sponsors came on board creating rewarding part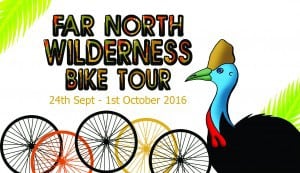 nerships: thank you to Kareeya Hydro – Stanwell, Mungalli Creek Dairy and TAFE Queensland!
To all those involved – a huge thank you!
So now for the 2016 Far North Wilderness Bike Tour …
A new route is being mapped out so start planning your self-paced, mountain bike adventure through the natural wonders of tropical North Queensland now! The tour runs from 24th Sep 2016 to 1st Oct 2016 and is limited to 50 places.
9. A new Cairns Climate Action Network 
The Cairns Climate Action Network (CCAN) re-commenced regular meetings in 2015, now held at CAFNEC and supported by CAFNEC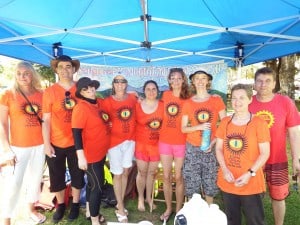 staff, volunteers and Management Committee members. CCAN is part of the national network of community climate action groups, working to mitigate climate change impacts. In Cairns, CCAN focuses on delivering public events, disseminating information on climate issues and renewable energy solutions, and in 2016 will be developing a policy platform. Visit CCAN Facebook to learn more. We always welcome new members! Meetings are held the second Wednesday of the month at CAFNEC, 6:30pm-7:30pm.
10. Staff changes: a new Director and community engagement capacity
In March 2015, we farewelled Angelika Ziehrl as Director and welcomed our Marine Campaigner, Josh Coates into the Director role. We've also invested in our community engagement efforts to mobilise and inform the public about environmental issues, with Roz Walden and then Nina Bailey in the role of Community Engagement Officer, and short-term work by Elise Chatterton and Bess Murphy on marine-related community engagement. Marie Short continues to be the bedrock supporting and holding the CAFNEC office together!
We're eternally grateful for the strong contributions and energy our volunteers contribute. Cosima Stokehold volunteered as superstar intern working on marine issues and our raffle fundraiser, Fiona Ryan has continued to be a committed regular volunteer on climate issues, also Dianne Prior working on our bookkeeping and Karen Nankivell on our library and other administration. Thank you, all!
11. A final message from CAFNEC President Denis Walls
It is with sadness that we farewell our dedicated and hard-working Director, Josh Coates. Josh is remaining in Cairns but stepping over to work for the Australian Marine Conservation Society (AMCS). For over two years, first in his role as Marine Coordinator and more recently as Director, Josh has worked tirelessly on behalf of the Cairns environment movement.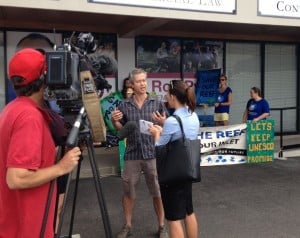 His campaigning credentials are outstanding and his efforts particularly in relation to Trinity Inlet dredging and protection of the Great Barrier Reef have been his major achievement and will remain his most significant legacy. One of his last major actions as Director was driving a hard but realistic outcome to ensure that Cairns would not be turned into an industrial port.
Josh was also able to gather together a dedicated, and always positive, Marine Response Team at countless events around Cairns and we, at CAFNEC, will be endeavouring to ensure that the foundations he has laid down are maintained. For example, the Cairns Drain Stencil Project which raises awareness of what pollutants go into our drains, by stenciling next to them in bold letters, has been one of the most successful recent projects that CAFNEC has undertaken with Josh's guidance.
We wish Josh all the best in his future employment and know that he will always be available to advise us and share his extensive knowledge of the environment sector.