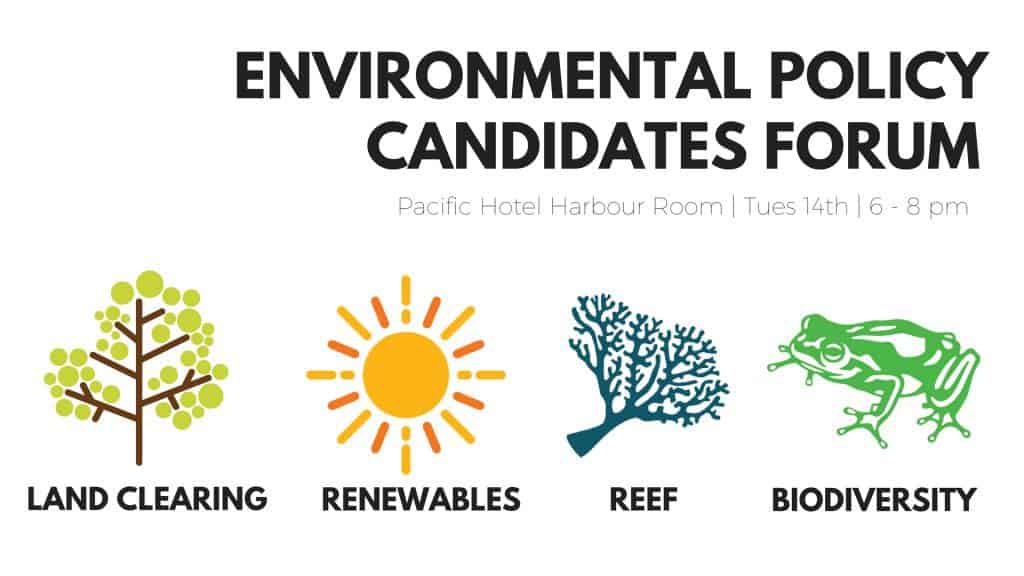 The Queensland State election has been called for Saturday 25th of November..
Join us: 'Environmental Policy Candidates Forum'
Tuesday 14th November
Where: Pacific Hotel – Harbour Room, 43 Esplanade, Cairns City QLD 4870
When: 6.00 – 8.00 pm Tuesday 14th November.
Extra details: Drinks available to purchase
Why:
Far North Queensland is home to two World Heritage Areas, diverse and spectacular landscapes and an unusual mix of native wildlife which together support our world-renowned nature-based tourism industry. Our region exists and prospers because of the unique beauty, wildlife and natural values of Far North Queensland (FNQ) and we wouldn't want it any other way.
With the unprecedented back-to-back coral bleachings in 2016 and 2017, climate risk to our environment and our livelihoods cannot be ignored. Climate change is no longer an abstract concept – it is an everyday concern not just for the environment but for local livelihoods.
With the impacts already being felt in the region, strong and swift action is needed and it will be the next elected government that will set the course for what climate action looks like for Queensland.
Across the state, conservation groups and the community are calling for strong leadership and urgent action to reduce rapidly rising rates of land clearing in Queensland and transition our energy and economy away from fossil fuels and towards renewables.
What:
Getting the large number of candidates across the region into one room is a logistical nightmare, some would say impossible. Instead, we have invited a mix of candidates from two FNQ electorates, Cairns and Barron River. This includes the three independent candidates across the two electorates and a candidate from each of the four political parties. In doing so, we hope to create a robust and respectful discussion encompassing diverse views from across the community and the political spectrum. All candidates from neighbouring electorates are welcome to come and contribute in the Q&A session.
Come along and take the opportunity to learn more about the issues, hear what local candidates see as state-wide, regional and local environmental priorities and take the opportunity to ask them about their policies, views and solutions to environmental issues that matter to you.
It is important to all who care about our wildlife and special places to be informed of the policies, plans and commitments local candidates will lead with to protect and restore our unique, far north Queensland environment.
Authorised by R. Walden, Cairns and Far North Environment Centre. 27-29 Greenslopes St, North Cairns, Qld.