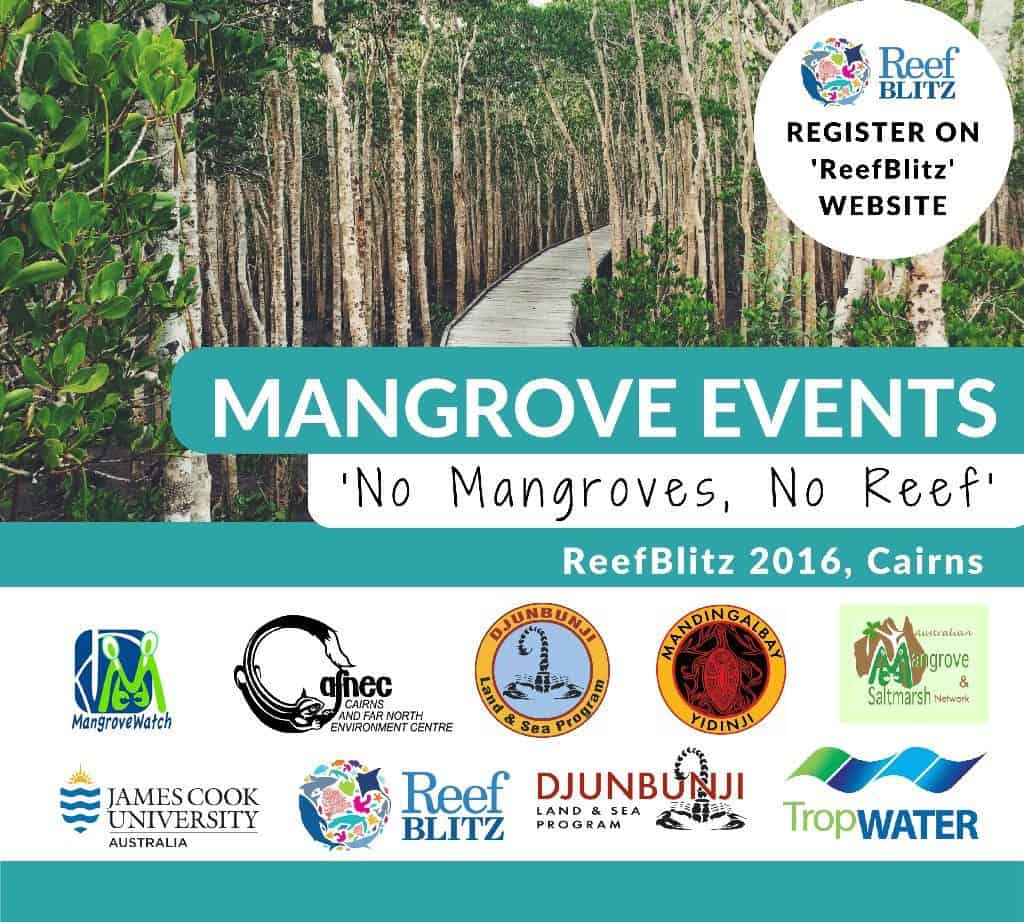 The Cairns & Far North Environment Centre are excited to be teaming up with Mangrove Watch, Djunnunji Land & Sea Rangers and others to deliver some exciting mangrove related events on the 29th – 30th October as a part of the 2016 Reefblitz. Put simply, 'No mangroves, no reef': a thriving reef needs thriving mangroves. The far north is home to the most diverse range of mangroves in the country, so let's celebrate this amazing ecosystem!
Come along on Saturday to the board walk and discover how much carbon our local mangroves are sequestering, attend a mangrove themed art show in the evening and on Sunday jump aboard and cruise up Trinity Inlet – attend one event, two or all three! Just don't forget to register via the links below to ensure your place.
When: Saturday 29th October 12 – 4 pm
Where: Jack Barnes Memorial Boardwalk, Airport Ave, Aeroglen QLD 4870
Cost: FREE
What: Come along to the boardwalk and discover our spectacular local mangroves of Cairns with MangroveWatch. This event is perfect for budding scientists, curious visitors and mangrove enthusiasts. Learn about mangrove forest and help scientists collect real data on the carbon sequestering capacity of our local mangroves. Adult and family friendly groups.
Read more and register here!
When: Saturday 29th October 7 – 9.30 pm
Where: Stratford Library, 11 Kamerunga Rd, Stratford QLD 4870
Cost: Gold coin donation appreciated
What: A night of mangrove talks and beautiful mangrove art! Hear specialist talks and participate in a discussion about the threats facing mangrove forests in the region and what we can do to help them. Enjoy an evening art exhibition with a variety of mangrove inspired artworks from talented artists of the region including Julie McEnerny, and NSW based Deidre Bean.
Read more and register here!
When: Sunday 30th October 8 – 1.30 pm
Where: Meet at Cairns Reef Fleet Terminal
Cost: $42 – $52.50
What: An educational cruise for curious students, nature loving gardeners and people of the sea edge You will learn the signs to look for, and how citizen scientists are using assessment tools like the shoreline video assessment method to learn more about mangroves. Our hosts for the morning are local country custodians, the Mandingalbay Yidinji (MY) people along with expert scientists with MangroveWatch.
Read more and register here!