The Cairns and Far North Environment Centre has created the FNQ Solar Hub project to promote the uptake of solar power by the households and businesses of Far North Queensland and to direct people to participating solar providers.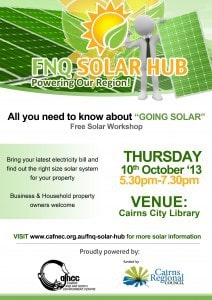 The FNQ Solar Hub will provide clear and unbiased information to the community about the benefits of going solar and what to consider when purchasing a solar power system.  Information will be provided via a web portal, which will link to all participating companies.To ensure we're working with quality companies, we have set a strict list of criteria that these companies need to meet.  These companies have also agreed to donate $50/kW of solar system sold to our Solar Futures Fund to help put solar on roofs in remote north Queensland communities, Powering Our Region!
To celebrate the launch of the FNQ Solar Hub, we will be hosting a Free 'Going Solar' workshop.  There will be a presentation on solar basics and what you need to know about going solar.  There will also be an opportunity to meet with participating solar companies to discuss your solar needs.
If you or someone you know is a household and/or business property owner interested in going solar but want more information on what this entails, please come along to:
Venue: Cairns City Library
Date: October 10th
Time: 5:30p-7:30pm
Bring along your last electricity bill and find out the right size solar system for your property.  There will also be an opportunity to discuss solar details, needs and product information with participating solar companies.  For enquiries please contact sustainability@nullcafnec.org.au or call 4032 1746.
We hope to see you there!