Australia is living an historical moment for global ocean conservation with the recently announced national representative network of marine reserve that will ensure that 3.1 million square kilometres of our ocean will be protected and managed primarily for biodiversity conservation.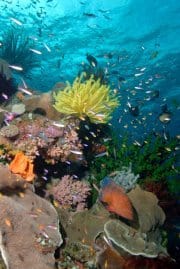 This is a major step forward for creating balance in our oceans and ensuring healthy oceans for the future – which is good for all ocean users whether they seek to use it for harvest or for recreation.
From thickly forested islands to small sandy cays, beautiful coral reefs and yet to be explored reef slopes and deep sea canyons; the Coral Sea contains 49 different habitats and supports and supports 341 species which are globally threatened with extinction including endangered green turtles which nest on the Coral Sea islands and cays, 28 species of whales and dolphins and healthy populations of large ocean predators like tuna, billfish and sharks.
The protection of this special and important part of Australia would provide a safe haven for its marine life and a globally significant ocean legacy for generations to come.
In fact large marine reserves are one of the missing elements in global ocean conservation especially if we consider that in the last 50 years overfishing has reduced global populations of large ocean fish – sharks, tuna, marlin – by 90%. The Coral Sea is in this regard a beacon of hope. It is considered a biodiversity hotspot for these large oceanic fish that play a huge role in maintaining the health of the marine ecosystems.
For example sharks that are often protagonists of negative publicity play in fact a very important role in the health of
our ocean. Sharks are at the top of the marine food chain and they role is to keep populations of other fish healthy and in proper proportion for their ecosystem. In fact they tend to eat very efficiently, going after the old, sick, or slower fish in a population that they prey upon. In this way they keep that population healthier with largest and strongest members that generally reproduce in greater numbers and the outcome is larger numbers of healthier fish. It is scientifically proved that the removal of these large predators from coral reef ecosystems alters its natural balance and may cause the whole structure to collapse.
The protection of this unique place, through the creation of the world's largest marine reserve, is an incredible win for our oceans. This win was made possible by the many people around Australia who sent a clear message that the Coral Sea is too precious to lose.
Over the past two years, the government has received more than 680,000 during an extensive public consultation and planning process that has helped shape the development of the Commonwealth marine reserve networks and their management plans.
However, to safeguard this legacy and maximise the returns on the Government's investment, it is fundamental that the right management framework is created, properly funded and applied in the Coral Sea Marine Reserve.
Scientific research on Marine Protected Areas demonstrates that well managed reserves:
• Perform better and generate greater community support;
• Create new jobs;
• Promote regional tourism;
• Ensure compliance and enforcement of new regulations and zoning plans;
• Foster world class scientific research;
• Provide marketing opportunities to our fishing industry;
• Support quality recreational experiences; and
• Have the infrastructure in place to respond to major threats.
We are currently in the last stretch of the campaign, with the Coral Sea Marine Reserve about to be protected by law. In order to do so, the Minister will consider the draft plan and, if satisfied, he will approve the management plan. The plan will then be tabled in both Houses of the Commonwealth Parliament and will come into force after 15 Parliamentary sitting days, provided it has not been disallowed.
Australia's oceans are amongst the most diverse on Earth and it is fundamental to protect key areas of our unique marine environment from the impacts of destructive fishing practices and the damage that oil and gas drilling can have on our spectacular marine life. Once again thank you for your invaluable help and support during this long journey!