Sunday September 9th 2012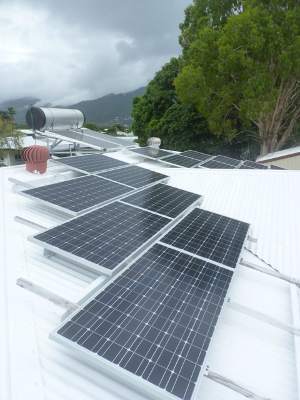 CAFNEC and the Tropical Green Building Network are working together to coordinate another great Sustainable House Day in Far North Queensland.
This is a national event that is held every year to promote sustainable design principles and sustainable living practices. The houses open to the public in our region will each display a different array of sustainability features.
A full list of houses is included below. Houses will be open from 10am until 4pm. For further information on the local event contact our office on 4032 1746.
For more information about national Sustainable House Day visit the Sustainable House Day website.
Houses on display in far north Queensland 
| | |
| --- | --- |
| Address | Description |
| 170 Chester Road, Wondecla near Herberton | Built mostly of recycled timber and timber milled by the owner builder the material choices also consider fire and termite resistance. Wide eaves, high ceilings and good cross-flow ventilation means no mechanical cooling and a wood heater is used in the short cold season. Electricity is supplied by a 1.3 kw stand-alone PV system which was sourced mostly secondhand. This supports a 12v fridge; 240v 160L upright freezer, laptop, TV, sound equipment, washing machine etc with the aid of a 1500w inverter. Lighting is 12v with mostly LED globes.  Water is collected and fed into 3 water tanks of 7300 gallons; 2 of these tanks are directly plumbed into the house. Grey water is caught in a small concrete tank and pumped out and used for irrigation of the native vegetation. The toilet is a Naturloo composting unit. |
| RN159 Forrester Rd, Malanda | This relatively simple home is steel framed, part slab on ground with a timber verandah. It has a skillion roof system with clerestory windows and other windows of all designs. The house faces North and there is great natural ventilation and light. Wall and roof insulation works brilliantly all year round.Temperature statistics are available for Sustainability House Day.  The energy bill is less than $150 a quarter. The kitchen is recycled, most of the tile work is mosaic and some of the doors and windows are recycled timber. Nearly all the trees on the 2.5ha are native and planted strategically for protection, views and natural hazards. There is a small vegie patch, some fruit trees, free range chooks, a worm farm and compost bin. |
| 62 Barnwell Road, Myola (near Kuranda) | Maxa Constructions presents a new home that uses 100-year-old timbers salvaged from the demolition of the originalWalshRiverbridge. The bridge pylons are verandah posts and other timbers laminated and joined using 'new aged' iron to create roof beams, trusses and fascias. The 10 star energy efficient home's position on the land maximises airflow and cross ventilation. The placement of louvres throughout, along with an open plan living space captures cool breezes. Innovation by design includes a retractable clothes drying rack in the laundry, along with modern use of glass and polished concrete flooring throughout making this home an eclectic balance of history and modern day sustainable living. |
| 22 Kippin Close,RedlynchValleyEstate | Kenick Constructions is pleased to present their newest design. Built for around $250,000, this very affordable price includes many clever design features and products that are sourced from our leading edge local businesses.  The house is 9.5 star energy efficiency rated and has NO ENERGY BILLS. The design maximises natural cooling breezes and minimises summer sun with energy saving appliances and LED lighting.  This home is future proof also including thoughtful features for changing lifestyle needs. There are less chemicals and toxins in materials and recycled materials reducing waste. There is wonderful use of all space inside and out with veggie and native plant gardens, the new 'gro-wall' and water saving devices. |
| 7 Kidston Street, Bungalow | Wendy and Len have a strong interest in sustainable food production and after seeing an episode of Gardening Australia where an aquaponics system was featured, decided to construct their own. They form a great partnership with Len contributing the practical know-how in the construction of the fish tanks and growing beds, and Wendy tending to the plants. They now have a ready supply of barramundi, jade perch, guppies and gold fish as well as the freshest vegetables in their suburban backyard. |