Barron Delta Mangrove Protection Campaign
The Cairns Airport Draft Land Use Plan was released in December 2010.  The plan incorporates a movement expansion precinct (second parallel runway), commercial precinct (shopping centre!) and mixed aviation zone which would in total require up to 100 hectares of marine wetland to be cleared. Federal, state, and local government representatives and the community have been alerted to the serious threat to an area of natural significance adjoining a Great Barrier Reef Marine Park World Heritage Area.
CAFNEC supports community calls that the Cairns Airport restrict site redevelopment to the area already cleared. The Queensland State Government are reviewing their land use plan and has the final say on the matter.
Barron Delta Mangrove Protection Campaign website for the latest news and further information: www.mangroveprotect.com.au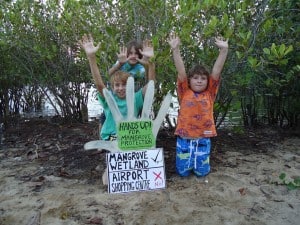 ---
Related Posts
[wp_cpl_sc cat_id=82 list_num=5 css_theme=0 sticky_post="0"]