MEDIA RELEASE
GBR Senate Inquiry confirms call for a ban on new dredging and dumping in World Heritage area
04/09/2014
Cairns and Far North Environment Centre (CAFNEC) has today welcomed the report of the Senate inquiry into the management of the Great Barrier Reef (GBR).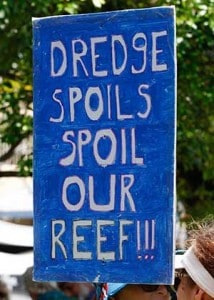 Marine Programs Coordinator Josh Coates said:
"We are pleased that the Senate Committee has listened to the evidence given by CAFNEC and many others to this inquiry. The consensus from the environmental, science and tourism communities was overwhelming in pointing out the real and present danger to the reef from the large number of port expansion projects along the coast."
"The Senate inquiry has backed our call for a ban on new dredging and dumping in the GBR World Heritage Area. Our call was echoed by Australia's leading reef scientists and tourism operators."
"The Inquiry's report confirms that the science is clear – dredging and dumping does damage our reef and inshore environment. By cutting off light to coral and seagrass and smothering these and other species, dredging and dumping has widespread and serious impacts."
"It is time for our politicians to listen to science and public opinion and call a halt to port expansions including the unnecessary Cairns port dredging proposal."
CAFNEC position on dredging and dumping:
CAFNEC advocates a ban on new (non-maintenance) dredging and dumping in the GBR World Heritage Area, effective immediately. Such a ban should not be withdrawn until conclusive evidence can be presented that the re-suspension of sediments from capital dredging programs can be undertaken with no impacts on the World Heritage values. The use of offsets should not be an alternative; there has been no evidence of the benefits these provide. This ban should be implemented with a concurrent review of the impacts of maintenance dredging with a focus on implementing practices that lead to a drastic reduction in impacts.
The full CAFNEC submission to the Senate Inquiry can be read here: https://cafnec.org.au/2014/06/5096/
Media contact: Josh Coates, Marine Programs Coordinator, (07) 4032 1586, marine [at] cafnec.org.au
Posted in