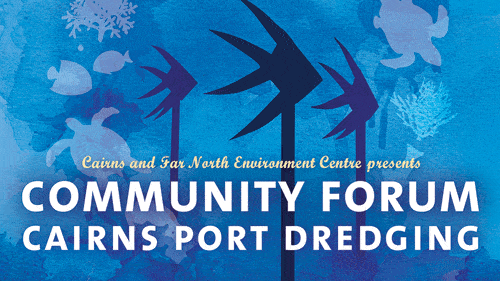 The Cairns and Far North Environment Centre (CAFNEC) have today announced the upcoming community forum on Cairns port dredging.
When: 24th September 2014, 6:30 pm start
Where: Cairns Choral Society hall, 31-33 Greenslopes Street, North Cairns.
What: Presentations and panel discussion from tourism and local industry representatives, leading scientists and environmental experts.
Presentations, Q&A, light refreshments provided, free entry.
The forum is an opportunity for the people of Cairns and the Far North to learn more about the risk to the Great Barrier Reef and other potential environmental impacts; the risks for our tourism and fishing industries; the cost to taxpayers; and the potential alternatives.
Confirmed speakers include:
Col McKenzie, Executive Officer of the Association of Marine Park Tourism Operators.
Jon Brodie, Chief Research Scientist, Centre for Tropical Water & Aquatic Ecosystem Research at James Cook University.
Felicity Wishart, Great Barrier Reef Campaign Director with the Australian Marine Conservation Society.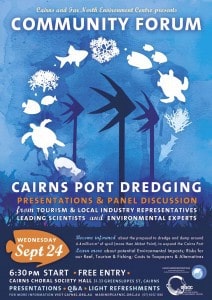 The event is supported by the CAFNEC Marine Response Team volunteers who are working hard to organise and raise funds to hold the event.
Cairns and Far North Environment Centre (CAFNEC) Marine Programs Coordinator Josh Coates said:
"This is a chance for the community to learn more about the proposal to dredge around 7 million tonnes of mud and acid sulphate soil to expand Cairns Port. This proposal is larger than the controversial Abbot Point dredging. At risk are our local dugongs, turtles, fish and seagrass, and the Great Barrier Reef. Tourism and fisheries industries rely on health marine environments and are also at risk."
"In the lead up to the release of the Environmental Impact Statement there is a lack of awareness in the community of the scale, impacts, costs and rationale for the dredging proposal. "
"We hope to raise community awareness by providing solid information presented by respected scientists, environmental experts and tourism operators."
"An aware and engaged community is the best way to ensure we get the best outcomes for Cairns, the Far North and the Great Barrier Reef. Spending taxpayers money on a project that could cost our environment, tourism and fishing industry more than it gains would not be an outcome anyone wants to see. "
"This event is free to attend and we encourage people to take the opportunity to learn more about what is proposed."
Please share the: Facebook event
Media contact: Josh Coates, Marine Programs Coordinator, (07) 4032 1586, marine [at] cafnec . org . au
Posted in