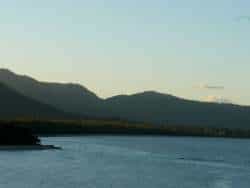 Cairns: Tuesday 20th November 2012
Today after many years of opposition from concerned community members and groups, the Premier Campbell Newman has announced the approval of a highly inappropriate development for Ella Bay, north of Innisfail. This development is to be located on a 450-hectare former cattle station nestled between World Heritage-listed national park and the Great Barrier Reef. The site is to be transformed into a $1.4bn integrated golf course, residential and tourist development billed as Queensland's biggest-ever tourism project.
Ella Bay is a sensitive part of the coast with significant ecological value. This development would result in the area bearing the brunt of a large-scale development with 860 units and 540 permanent residences of low and medium-density.
"This site is completely surrounded by the World Heritage listed Wet Tropics and the Great Barrier Reef, and is adjacent to nationally endangered littoral rainforest protected under federal legislation. This site is definitely not appropriate for a development of this scale and the best use for this land is for low impact recreational and cultural use, not more urban sprawl," says CAFNEC Coordinator, Anna McGuire.
"Certainly in the short term this development would create jobs, but at what cost?"
"The development would result in as many as 5,000 people visiting and living on the site, with a high risk of degrading the unique natural and cultural values of the area. The influx would result in a huge increase in traffic on a very narrow coastal road through a regularly cyclone-affected section of the Wet Tropics, and is likely to result in increased Cassowary strikes and ongoing access issues. The development would also introduce domestic cats and dogs to an important habitat area which is otherwise isolated from these impacts."
The surrounding lowland rainforest is critical Cassowary habitat, which is particularly valuable in a landscape already fragmented by urban development and agricultural land, and is regularly impacted by cyclonic events. Restoring this site would help to improve connectivity and provide a valuable Cassowary refuge.
"Ella Bay is too special to lose to inappropriate development. We will fight this development all the way to protect the ecological values of this unique area."
For further information please contact:
CAFNEC Coordinator – Anna McGuire – 0434 955 424/ 0488 681 916
Posted in