FUNDRAISING EVENT
Far North Wilderness Bike Tour
About
First run in 2001, the Far North Wilderness Bike Tour started as the brainchild of Jon Metcalfe, a keen local cyclist and avid environmentalist. He spent months doing solo missions through the remote areas of the Atherton Tablelands to find a route that might be suitable for such an ambitions tour. With a team of enthusiastic and dedicated volunteers the bike tour runs every year to raise awareness and raise funds for CAFNEC.
The money raised by the bike tour has assisted CAFNEC to undertake a large variety of environmental conservation projects.  CAFNEC works to create balance between industry, development and the environment to ensure a sustainable future for the local communities of Cairns and the Far North.  The work that they do has contributed to conserving areas such as the Wet Tropics Rainforests, maintaining the health of the Great Barrier Reef and protecting threatened species.
The Far North Wilderness Bike Tour provides a fully supported, self-paced mountain bike ride through the natural wonders of this region. This self-paced ride is great for a range of riders starting from those with some off-road experience, through to the those requiring extra challenges. The key aim is to introduce people to the breathtaking natural diversity of this region through a social and life changing experience. The challenge of riding off-road in this remote terrain is unforgettable for riders, with many returning year after year!
The current 6-day format of the Far North Wilderness Bike Tour traverses the northern part of the famous Atherton Tablelands, with a focus on showcasing the beautiful World Heritage rainforest of the Wet Tropics, south of the Daintree River in North Queensland.
Organisers have planned a gorgeous scenic cycling experience through some of the most beautiful parts of the Far North, with lush tropical rainforest, cool waterfalls and freshwater creeks. This is certainly a trip of a lifetime through some of Far North Queensland's best scenery on wilderness mountain trails.
Run by volunteers, the Bike Tour crew are currently taking a well deserved break with no tour being run in 2022.
Nothing else like it …
Tracey Hannah: 
Australia's #1 Downhill Mountain Bike Champion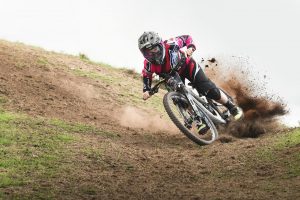 "The CAFNEC Far North Wilderness Bike Tour is a great opportunity to hit the tracks in the wild country of FNQ. This Mountain Bike ride takes you on an adventure through unique trails and private properties that are otherwise inaccessible. A self-paced ride, it is great for a range of riders starting from those with some off-road experience through to the those requiring extra challenges. You can ride with a friend or with a group and your support crew is there morning, noon and night. With great food, incredible atmosphere and spectacular scenery, this is a must do ride for any cycling and environmental enthusiast."
Our unique bike tour is a charity event that includes:
Approximately 350km on mostly comfortable dirt roads and tracks with low traffic

6 days of supported riding and camping

Spectacular scenery in hard to access locations

An intimate and friendly ride with a maximum of 45 riders

Home-cooked meals, cakes and biscuits, and a well-stocked bar

Support for the important work of CAFNEC
Check out the video from the 2019 tour to get you excited!