Date
Sep 30 2021
Expired!
Flying Fox Campaign Meeting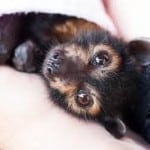 Flying Fox Campaign Meeting
When: Thursday 30th September 4pm – 4pm (Before CAFNEC Green Drinks, which you're welcome to stay for)
Where: Cominos House: 27-29 Greenslopes Street.
Registration Necessary – See Below
Our beautiful Spectacled Flying Foxes are under threat again, from all levels of government, and we need to take action.
So what's happened?
Federally: The government has put together a proposal to get rid of 184 threatened species recovery plans, including the recovery plan for Spectacled Flying Foxes. This means that they are getting rid of strong legislative plans to recover the species.
State: We are still seeing the state fail to meet their commitment to repeal the terrible laws created by the Newman Government for flying fox roost management.
Local Government: The Cairns Regional Council is now applying to remove T5 from the Cairns Library Camp. The last remaining Creche tree in a nationally significant roost. (EPBC Referral 2021/9043).
At this meeting we will be organising an a number of different actions: Submissions on various referrals, a press conference, an action locally and more. If you are attending please register below.
REGISTER HERE