Cairns' iconic coastal headland, Taylor Point, has been spared from development yet again, at least for the time-being.
Judge Everson found the proposal was in "significant" and "flagrant" conflict with the Council's 1996 planning scheme, which was in effect when the development application was lodged in 2004. Judge Everson also concluded that there were insufficient grounds to approve the proposed development notwithstanding these conflicts. The Court also gave significant weight to later planning scheme provisions and the Far North Queensland Regional Plan 2009-2031 (FNQRP), which reinforced the conflicts that made the development unacceptable.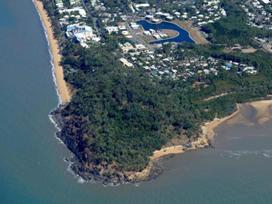 Judge Everson's decision was a clear win for the environment and upholds the integrity of planning provisions that seek to avoid or preclude inappropriate development on steep hill slopes in the region. The 30 March decision also represented a significant win for local residents who have opposed a series of development proposals for Taylor Point over the past 30 years and who are understandably very pleased with the outcome of the 3-week trial. The community's opposition was spearheaded by Save Our Slopes Community Action Group Inc., which in turn was represented by myself, as principal solicitor for the Environmental Defenders Office of Northern Queensland Inc., a community legal centre based in Cairns.
Taylor Point's continued existence in more-or-less pristine condition remains under threat, however. The developer, Robert Prettejohn, lodged an appeal with the Queensland Court of Appeal on 17 May 2012. Mr. Prettejohn's appeal claims Judge Everson gave undue weight to 2010 amendments to the hillslopes code of the CRC's local planning  scheme, as well as to provisions of the FNQRP, which essentially prevents development on steep coastal slopes except where there is an overriding need for development of community infrastructure. The Court of Appeal has issued a timetable requiring the developer to file his written argument by 14 June 2012; Council and Save Our Slopes are to file their written arguments by 5 July 2012. No date has been set for oral argument.
Unlike proceedings in the Planning & Environment Court, the Court of Appeal is a costs order jurisdiction – meaning that the loser in this appeal pays the winning party's costs.Members of the public who wish to support Save Our Slopes in opposing Mr. Prettejohn's appeal are encouraged to make a tax-deductible donation to the "Save Taylor Point" campaign on the Environmental Defenders Office's website (https://www.givenow.com.au/savetaylorpoint). Contributions are sincerely appreciated – as are any other expressions of support readers might like to express in letters to the press or to their local council members.Keeping your fingers crossed doesn't hurt either!
By Patrick Pearlman, Principal Solicitor, Environmental Defenders Office of Northern Queensland