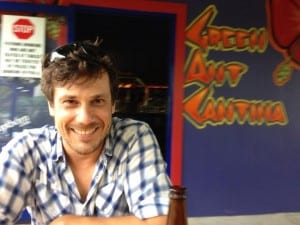 By Andrew Picone
There is a renewed urgency in speaking out for the environment and demanding progress towards sustainability. Our region, the Far North and North West, has a population of about 270,000. I would argue that we all want to see a healthy environment, the only difference is, across the various political divides, we don't all agree on the approach, yet.
We have some of the most remarkable landscapes on our front door step. Many people travel from across the world to visit our home. From a range of sectors, the 270,000 people in this region largely depend upon a healthy environment for their livelihoods. From pastoralism to farming, from tourism and hospitality, to marine management and land management; it is the direct and indirect services performed by natural ecosystems that we depend on.
Or world is shaped by people like you and me. We are no-less capable than anyone else in setting a course for a future with our own vision. Regionally, our collective capacity and capability is our strength and this became obvious to me at the recent regional environment roundtable meeting on November 9.
Sustainability and environmental protection are the foundation of a reliable economy for our region. Negligence towards the environment will have a profound impact on our social and economic wellbeing.
As CAFNEC's new President, I'm interested in exploring opportunities to strengthen the movement in the far north. Collaboration, coordination, strategic planning, political strategy and resourcing (i.e. fundraising) are a set of skills I have learnt with my current employer, the Australian Conservation Foundation, which I can bring to this role.
I look forward to getting to know more people working and volunteering in conservation and sustainability understanding the drivers behind local issues.
This festive season, consider getting someone a CAFNEC EcoStar membership as a gift that keeps on giving. Also, need to thank Ellen Webber for her tireless commitment to the role of President for the last three years and all of the past and present Management Committee, CAFNEC staff and volunteers for doing such a wonderful job.
Also, I have to thank the fabulous Far North Wilderness Bike Tour team with a special mention to Kay Graham. With another full capacity ride the fundraising event was a brilliant success. What an outstanding effort and well done to all involved.
Please feel free to get in touch with me through various ways:
Twitter: @andrew_picone
Blog: http://rum-jungle.com/