Dear readers, we are happy to present our first Ecotone magazine issue for 2015. Topics include updates on the Queensland election results and perspectives on what a new government means for our environment; important local issues and notices; and all about the Far North Wilderness Bike Tour 2015!
We also celebrate the great work of our volunteer Marine Response Team. You can look forward to more highlights of the important work our many volunteers do, in further issues of Ecotone this year. You can view the March issue here – Ecotone March 2015.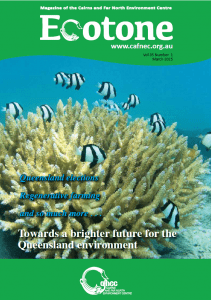 Please consider making a monthly donation by becoming an EcoStar – every donation helps CAFNEC fight to protect the reef and for biodiversity and threatened species conservation.