Progress continues on a potential World Heritage nomination for parts of Cape York Peninsula (CYP), even though the State Government withdrew its support in mid-October 2012 and returned $2M to the Federal Government. At that time, Queensland Minister for Environment and Heritage Protection Andrew Powell stated that since the Federal government had already begun separate negotiations with some Cape York traditional owners it would be counter-productive for the State Government to consult with interest groups simultaneously.
However the Newman government still says it will support the Commonwealth with a potential nomination of 'the best of the best' areas that demonstrate outstanding universal values. In fact, World Heritage has been federal and state government policy for more than six years and discussed by community groups on and outside CYP for well over 20 years.
For the last two years, the Queensland Government (with Federal Government support) has consulted Cape York Peninsula residents, communities and organisations through a range of processes including Country Based Planning with Traditional Owners and sectoral consultation with the pastoral, tourism and conservation stakeholders. A range of consultation papers were released by the Queensland Government in 2011, over 12 months ago.
The Federal government has recently initiated its own negotiations with Traditional Owner groups through the Balkanu Aboriginal Corporation and in early November Federal Environment Minister Tony Burke visited parts of the Cape to talk to those groups working through Balkanu. Some tensions then developed from groups already engaged through other processes such as the Country Based Planning process as they felt ignored by the Federal Government. Therefore over the last few months environment groups have been working hard to ensure that the process of consent and community engagement now being undertaken solely by the Federal Government includes all of the Indigenous communities interested in considering support for World Heritage.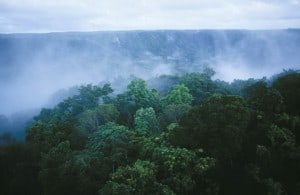 The next deadline to submit a World Heritage application to UNESCO is February 2013. Federal Environment Minister Tony Burke insists the decision to proceed with a World Heritage nomination is entirely in the hands of Traditional Owners. No area will be part of this nomination that has not received the consent of Traditional Owners, although the increased threat of broad scale mining highlights the importance of getting the nomination right and lodged by February 2013.
World Heritage recognition of Cape York Peninsula's outstanding natural and cultural values would help communities on the Cape achieve greater prosperity, and therefore environment groups have been lobbying for an appropriate economic package for the Cape York region that supports a nomination. This should include:
a business support package to assist small/medium-sized business enterprises to develop and take advantage of business opportunities that arise from the nomination
improved infrastructure such as sealed roads and wet-season access (bridges)
facilities to support increased tourism and associated industries, such as better roadside services and protected area facilities, and
conservation infrastructure to support the cultural and natural resource management of the landscape, including greater financial support for protected area and natural resource management across the region.
World Heritage properties around Australia generate more than $7 billion in economic activity every year.  In Queensland alone, World Heritage sites contribute more than $4 billion in economic activity and provide nearly 25,000 direct and related jobs (ref: Gillespie Economics & BDA Group's 2008 study of Economic Activity of Australia's World Heritage Areas). The Cape is certainly in a position to take advantage of these opportunities – but it will need our support.
By Andrew Picone and Sarah Hoyal