By Anna McGuire, Coordinator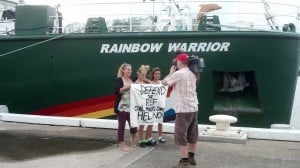 The last three months has been a busy time for the CAFNEC team. Among other things, we have launched the Think Outside the Bag project in Port Douglas, seen the Coral Sea Management Plan tabled in Federal Parliament, started our regular Tanks markets stalls, and commented on a raft of state policy and law reform that we have been working hard to keep up with. We have also continued our regular Green Drinks events to encourage connections between people interested in environment issues, and had a surprise visit in April from the world's first purpose-built environmental campaigning ship, Greenpeace's Rainbow Warrior III.
Major issues in Queensland over recent months include the weakening of vegetation protection laws in Queensland[1]; a legislative change to allow private commercial infrastructure in national parks[2]; continued discussion over the government's decision to reopen ecologically significant state forest areas to logging (see article Forest for the future), and the announcement by the state government that they will be handing over the issuing of Damage Mitigation Permits for flying fox culling and relocation to local governments in key areas. These are all alarming changes that significantly reduce protection for species and communities across Queensland. We are particularly concerned about the changes to the Vegetation Management Act (see Vegetation management article) which pose a significant threat to the future of Queensland's biodiversity.
Key local issues include the approval of the Cairns Airport Land Use Plan, including provision for clearing 100 hectares of mostly mangrove vegetation for a 'movement expansion precinct'; approval of the controversial Taylor Point development, and a resolution from Cairns Regional Council to attempt to relocate the flying fox colony near the city library.
So where should we focus? Well it's hard to know at times like this, but we think that encouraging positive solutions to the challenges we face is a good place to start. We're also working to let people know about the changes that are going on and how they are likely to affect our communities and the beautiful natural places we love. You can contact our office if you would like more information on any of these changes, or visit www.cafnec.org.au.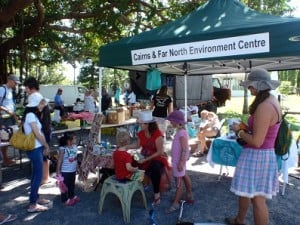 Some positive news is that we have had a lot of help from volunteers over the past few months, though there is still a lot of work to do so please let us know if you would like to help. Another way to help is to renew your membership, become a member, or join our EcoStar monthly giving program. At times like this we need all the support we can get, and having a large membership base adds weight to our voice. We have started the EcoStar monthly giving program to provide us with a reliable, ongoing funding source given the unpredictability of government funding into the future. As a non-government, community run organisation, we rely on community support and input, and we would love to hear from you. So please drop in, visit us at Tanks market, or get in touch if you have any feedback about our work or would like to offer help or let us know about an issue you care about.
We hope you enjoy this edition of Ecotone and that you might perhaps draw some inspiration from these discussions about working towards a better future.