Our Program has established a group of committed core trainers in Far North Queensland who are working alongside our Community Organiser to develop and deliver ongoing advocacy and organising training in our community.
We are in a time of uncertainty, and huge environmental challenges like we have never seen before, yet our governments sit idle on climate change. Climate change is not a problem that requires small efforts from a handful of individuals. We need a movement of people working together for real change!
Cairn's regional location, far from any major centres, makes it difficult for our community to gain the valuable and constant training necessary to build our campaigning and advocacy skills, and grow our movement. Too often we see our passionate change-makers leaving for the big smoke to attain the knowledge and skills they need to succeed. 
We know that if an ongoing advocacy training program exists here in Far North Queensland, led by a group of core trainers who have the necessary skills and knowledge then more training will be available to our community, and more people will be able to take effective action for a safe climate and flourishing FNQ natural environment.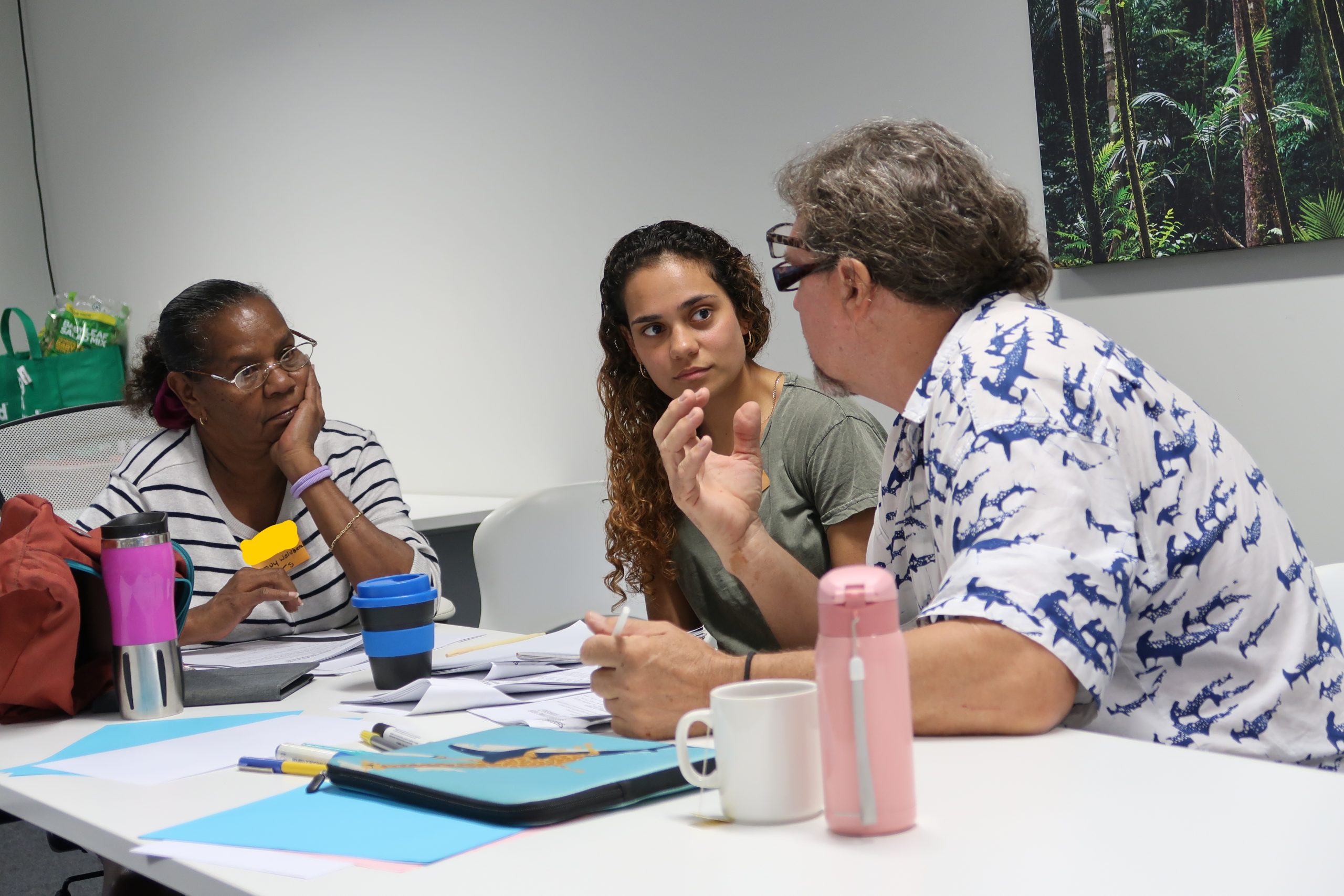 Stage 1: Core Trainers – 2020
To have a large enough and effective training program we need to build a group of core trainers with diverse skills, who are committed to providing training on an ongoing basis. During 2020 we will recruit our Core Trainers who together with CAFNEC staff will develop the training program and deliver training mid-late 2020.
Stage 2: Focused Training 2021
During Stage 2 we will review feedback from 2020, to ensure that training stays relevant. While recruiting more trainers, we will aim to provide more training sessions in the second year of the program.
2022 Onwards
We will continue to develop the training provided to suit community needs. The program will require the ongoing maintenence of a core group of trainers who are committed to the program. Our ambitious goal is to see the training extend past the Cairns area of FNQ, and reach our even more rural and remote areas.
Are you interested in becoming a core trainer with the Community Organising and Leadership Program? Hit the button above and get in contact with our Community Organiser to find out how.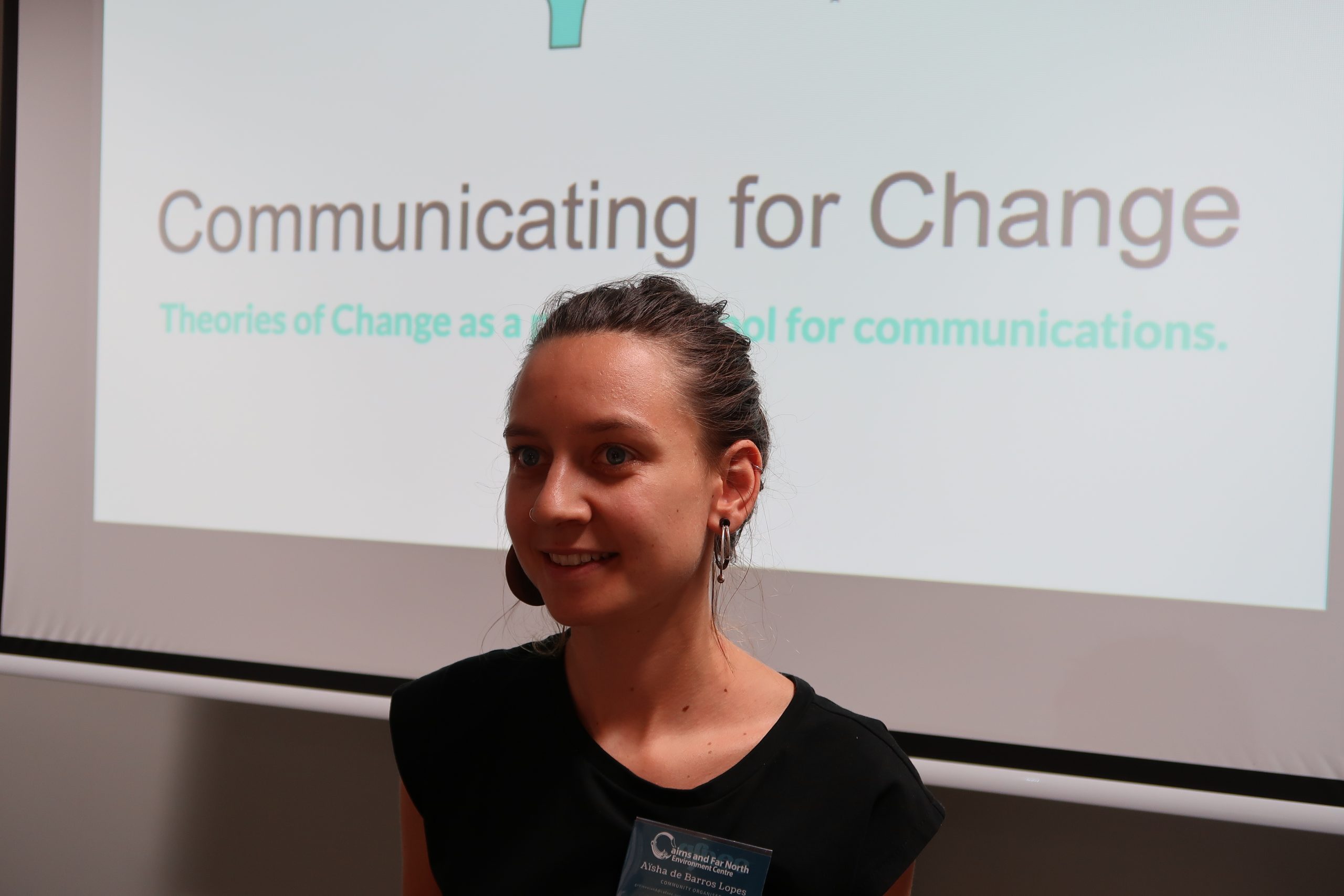 Aisha De Barros Lopes
Aisha has been involved in campaigning and advocacy in Far North Queensland for the past 3 years. As Community Organiser, Aisha has been able to strengthen her relationship with the Cairns community, and bring to her work a knowledge and understanding of what it is our community needs.
Aisha has attained knowledge and skills in community organising and advocacy through comprehensive mentorship with activists in FNQ, and has completed the Change Agency Fellowship in 2019.
Aisha has previously developed and delivered advocacy training in FNQ with a number of environment organisations, as part of the Warriors of the Waterways Project; as well as continues to provide support and workshops to our volunteers.
Meet our Core Trainers for 2020! 
I have been a "late bloomer" in many aspects of my life, and activism is no exception.  Watching Extinction Rebellion's presentation "The truth", last year, shocked me into action.  Since then I have gone through some of the stages of grief, denialism being one that I have been tempted to revisit during the lockdown.  World and local events unfortunately don't allow for shielding and denying and I am, once again, ready to have my voice heard. 
I want a strong educated passionate community in Cairns that will challenge the status quo for a healthy environment, society and local economy. I feel when there is more of us together supporting each other to better our community more can be done. I am excited about being a core trainer because personally I feel challenged and inspired by the program and the momentum from this will serve our community.
I have a drive to help others become greater stewards of their surrounding natural environments. This makes me passionate about becoming a core trainer. By giving people the skills and confidence to lead and inspire others, greater outcomes can be sought for the community and environment as a whole.
"I have a great passion in sustainability, and I am particularly dedicated to the protection of our marine environments. I cannot wait to dive deep into this Program as a Core Trainer with CAFNEC, and contribute my energy towards our community."
Event Promoter, Community Advocate, Sustainability Enthusiast and no stranger to FNQ! I have spent four years building Sprout Festival up from the ground, and also immersed in an honours degree researching into festival attendees usage and response to waste management options at events. I am looking forward to strengthening my community organising skills while making beneficial connections within the community.
"I am so excited to be a part of the CAFNEC team! I have joined with the intention to step into more of an active role in advocating for the incredible ecosystem we are privileged to be part of in the Far North Queensland region and to share this with our community. I have also joined to establish more of a solid link between my Social Work degree and passion for the environment so I can work from a more cohesive and holistic practice framework."