Party with a Purpose
As a CAFNEC volunteer or supporter this is your invitation to join us for a night of celebration!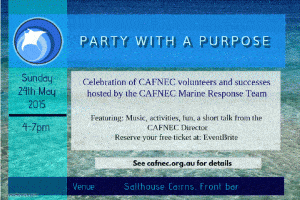 Please join us @ Salt house, Cairns, front bar – Sunday 24th May 4-7pm
Celebration of CAFNEC volunteers and successes hosted by the CAFENC Marine Response Team
All CAFNEC volunteers, friends and supporters welcome.
Featuring: Music, activities, fun, short talk from the CAFNEC Director
You are part of something good, together we are more than just the sum of our individual parts. We will be celebrating recent milestone wins for the environment and the amazing efforts of our volunteers and supporters that make it all happen. Connect and reconnect with like-minded people in a fun social atmosphere. There will be activities and music from local band The Taste as well as some easy actions you can take to help protect our environment.
No matter if you have been volunteering or supporting us recently or 30 years ago, we want to see you and connect. Friends and family welcome.
Reserve your free ticket at: https://www.eventbrite.com.au/e/party-with-a-purpose-tickets-16985015639
Bar and meals available at the venue.
Location: Salt House –  6/2 Pierpoint Rd, Cairns QLD.