Sustainable finance: putting your money where your values are
One area of sustainable living that is often overlooked is the way we spend and invest our money. Not just by shopping wisely and for environmentally responsible products in the supermarket, but by the way we choose to invest.
It completes the picture, to know where your money is invested. Do you want to support big corporations which are
actively ruining ecosystems or involved in unethical product production (cigarettes, weapons)? Without careful checking of your bank, your superannuation and your private investments, you may well be part of the problem.
There are now many new organisations and initiatives which can help us become ethical with our cash.
Superannuation
Australian Ethical Superannuation – investing in only environmentally and socially responsible companies.
Future Super – Australia's first fossil fuel-free superfund.
Banking & Corporate investments
Market Forces – affiliated with Friends of the Earth Australia and a member of the Bank Track international network, researching and campaigning on corporate investments. Market Forces' vision is "a future wh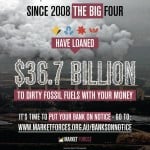 ere institutions invest with a high degree of respect for the environment, utilising   account the custodians of their money to ensure it is used to benefit the environment"
Check out Market Forces work on the Big 4 Australian banks' investments in fossil fuel projects, their many campaigns and public events promoting this issue. They recently produced a new report 'Fueling the Fire' about Australian bank investments in coal and gas.
Divestment
A huge new movement globally, divestment is about removing your money from companies which are damaging the environment. There has been a huge push lately for individuals and institutions to divest from fossil fuel investing companies. Many environmental leaders (Bill McKibbon, Naomi Klein) believe divestment is the way real large-scale change will happen.
Leader institutions, showing the way by divesting their investment funds from fossil fuels include Faith Groups (Lutheran World Federation, World Council of Churches, Anglican Diocese of Melbourne, Church of England), Universities (Lund University, Sweden; University of Glasgow, Scotland) and Financial Funds (Rockefeller Brothers Fund; Norwegian Sovereign Wealth Fund). You can see inspiring lists of divestors here at Go Fossil Free.
You can read a good summary about Divestment via The Guardian.
Groups like Market Forces have tips on how to switch your Australian bank to a fossil free option, see their website.
350.org have been leaders in this movement. They have a Fossil Fuel Free Australia site you can sign up to for more info.
Here in Cairns, CAFNEC held an action outside the Commonwealth Bank Lake Street branch in May 2015 to highlight the bank's irresponsible investments in Reef-damaging Adani's Abbot Point coal project. Stay tuned via our Facebook site for more Divestment-related CAFNEC actions.
Disclaimer: any finance information shared or provided by CAFNEC does not constitute professional financial advice.