CAMPAIGN
Our Climate, Our Way of Life
Our way of life in Far North Queensland is special, living side-by-side with the oldest living tropical rainforest, and the stunning Great Barrier Reef. The natural environment that surrounds us is such a big part of our everyday experience. The places we love to see, and the activities we love to do.
But the future of our climate, and our way of life hangs in the balance.
Our climate is changing, presenting new challenges for our environment, economy and our community. Our way of life here in Far North Queensland is not the same as it use to be.
Climate change is real. It is here. We know you are all feeling it too. 
The next few years will determine the degree of suffering caused by climate change. Our governments are sitting idle on action on climate change, and playing a part in determining Australia's suffering – exacerbating it. We need to take action into the hands of our community. We have to be all in for this! There is no other choice. And that's where you come in..
We need our Far North community to turn up, turn out and get LOUD. We want feet on the ground: door knocking, listening, sharing, acting for a safer climate.
Our conservation movement is strong in Far North Queensland and we know that COVID has hit us hard, but we need you, we need you to activate like we've never activated before. 
To put climate action front and centre on the agenda AGAIN. Our community cannot ignore tackling climate change a second longer.
So what's the plan? From now until December, our volunteers are door knocking in suburbs across Cairns to talk about climate action with our community. To understand the challenges and changes seen to our climate, and our way of life here in Far North Queensland; and to bring together our community around shared experiences. Our campaign is about listening and learning what it is our community envisions a safer future to be.
We know that communities across Far North Queensland are feeling the impacts of a changing climate, here and now. Our homes vulnerable to flooding, our work more and more uncertain, and our beautiful beaches being swept away. 
This year we want to hear from you. We want to know your experiences of living in Far North Queensland. To understand the challenges and the changes you have seen to our climate, and our way of life.
This year we are stepping into our neighbourhoods talking to, and bringing together our community; hearing and learning from you, as to how we can all make sure our way of life remains better for ourselves, our communities, and our unique natural environment.
As part of this years campaign, Our Climate, Our Way of Life, CAFNEC's Core Trainers are providing climate conversation workshops to build the skills of our community, and empower all of us to speak out and speak up.
Our Climate Conversation Training will provide you with the skills and tools to:
Talk about climate action relevant to our community and region

Forge public relationships and learn to identify other's self-interest and our own

Move to an understanding of how individual stories lead to bigger stories

Inspire and empower others to step up and take action
When:
Saturday 6th March, 9am to 12pm

Saturday 26th June, 9am to 12pm

Saturday 25th April, 9am to 12pm
Where: Downstairs at Cominos House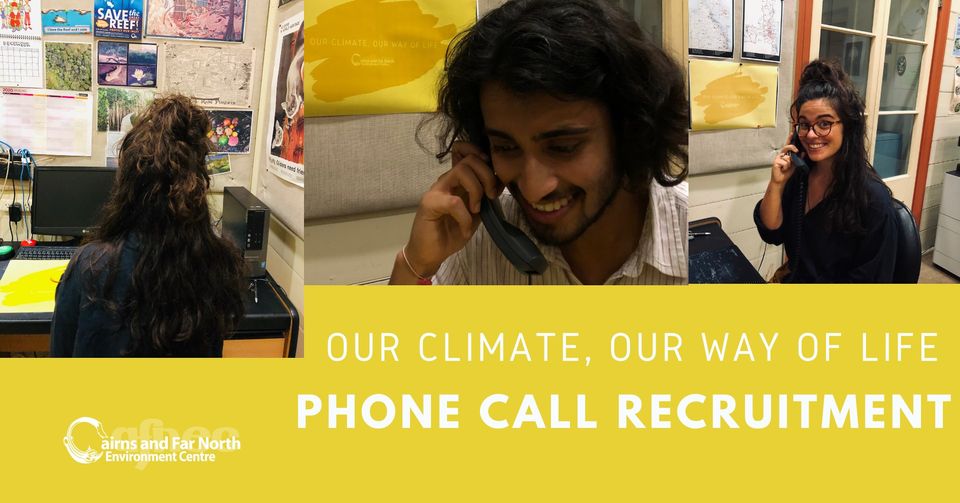 Phone calling is a very important part of running a campaign. A recruitment call is a two-way discussion to create a relationship.
It is a perfect volunteer opportunity for those who love to have a yarn and excite others to come along and take action with you.
Sound like a role for you? We would love for you to get involved! At this stage, we are asking for online registration in order to have an understanding of attendee numbers. Don't be shy to come along and join the party!
We are asking you to show up.
We are in a time of uncertainty, and huge environmental challenges like we have never seen before.
Come along to our volunteer meeting fortnightly on Tuesday from 5pm to 6pm, upstairs at the Cairns and Far North Environment Centre OR online via Zoom
https://us02web.zoom.us/j/3545107001
.
Show up, take action, make an impact.
If you have any questions please do not hesitate to email our Intern, Liz, at intern1@
null
cafnec.org.au
Climate Conversation Training
Cancellations: If for whatever reason you can no longer come to this event please contact Aïsha de Barros Lopes on 4032 1746 or simply send an email at getinvolved@nullcafnec.org.au. As a small organisation with limited budget it is imperative we know who is and isn't coming to events. This is also even more the case in COVID times as we have strict capacities for most venues. Thanks for your understanding!