Natural Heritage Issues and Priorities
 The Gulf of Carpentaria is a vast, relatively unsettled region of northern Queensland, and home to some of Australia's most important undisturbed river systems, wetlands and marine environments. The region forms a key link in the chain of relatively intact landscapes across northern Australia, from the Kimberly to Cape York. CAFNEC's area of concern is the northern Gulf, a region of approximately 194 000 sq km which includes mountains, plateaux and high plains, to hill country and plains running down to the coast. The Gulf region has a tropical monsoonal climate, with hot, wet summers, and cooler dry winters. The region includes the catchments of the Mitchell, Gilbert, Staaten and Norman Rivers. The area is also of great cultural significance with a rich Aboriginal cultural heritage.
 Photo by Steven Nowakowski
Key Environmental Issues
Compared to most other regions in Australia, the Gulf is relatively intact as an ecological landscape. However the region has undergone significant change over the past 200 years and is regularly targeted by industry and governments as a possible area for expansion and extraction of resources. It is essential that regions like the Gulf are not subject to the destructive industries that have decimated much of southern Australia's environment. New industries and economies are required which respect and value the regions important natural and cultural values.
Grazing
A major threat to biodiversity, water quality and land condition in the Gulf region is grazing pressure. Given that much of the Gulf is already used for grazing, some intensively, there are some real benefits in identifying 'areas of least disturbance'. These invaluable areas are rare in the tropical savannas and could become a core/focus for some future conservation planning e.g. such as parts of the Staaten River catchment.
Rivers
The Gilbert River poses some difficult issues. Irrigated agriculture has been occurring there for the past 50 years. Some critical issues that need to be addressed include resilience of soils to continual cropping; retention of only minimal riparian strips; and salinity on some of the sandy earths that are currently proposed for expansion of irrigation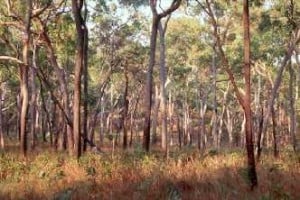 Photo by Steven Nowakowski
Irrigation and water infrastructure are one component of wild river management but perhaps of greater importance right now is the impact of grazing in riparian and near-riparian areas. Grazing can change the fundamental structure of riparian vegetation, and hence critical habitat, by removing the native pastures and lower shrub layer and replacing it with introduced, highly-destructive plants such as rubber vine, Hyptis and numerous introduced-pasture escapees. Rehabilitation of degraded areas is extremely difficult, therefore any areas that are still relatively undisturbed are of significant ecological value and should be identified as a matter of urgency as true wild rivers.
Ecological knowledge
 The paucity of knowledge about ecological values in the Gulf region hinders natural heritage assessment, planning and management. Support for proposals to undertake more detailed flora and fauna surveys across the whole Gulf region is essential.
 The Marine Environment
 The Gulf supports significant recreational and commercial fisheries, most of which are heavily dependant on the health of the region's rivers. The rivers not only support a fishing tourism industry, but flood annually contributing important freshwater and nutrients to marine prawn populations.