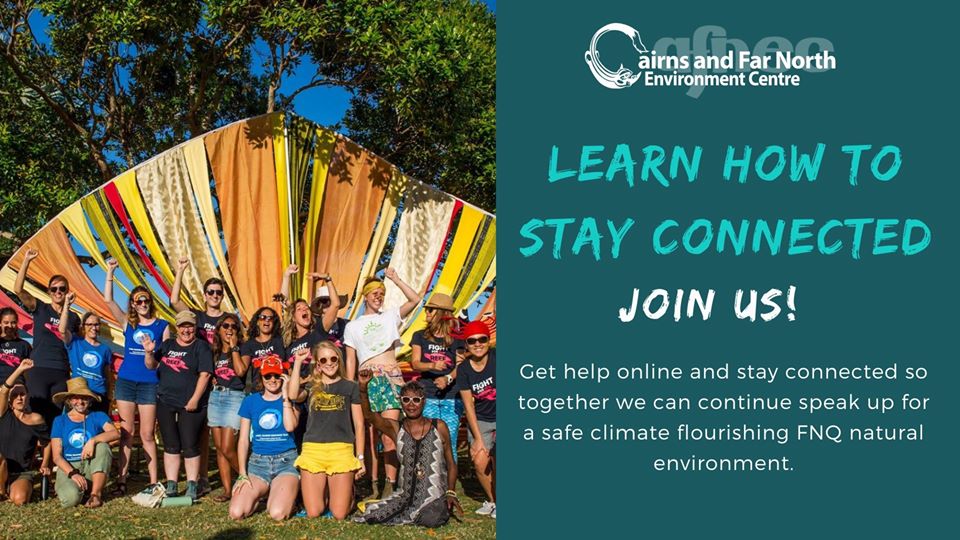 Date
Apr 14 2020
Expired!
Get Online & Stay Connected – Online Volunteer Meeting
Are you having trouble staying connected with our community, and need help to get online?
CAFNEC is hosting a special volunteer meeting to help all of our members, supporters and volunteers to get online, understand how to communicate and use online resources, and ensure that we can all stay connected during this uncertain time.
We want to make sure that together as a community we can continue to speak up for a safer climate and flourishing FNQ natural environment!
What will you gain from this meeting?
1. How to sign up to and use Facebook effectively
2. Getting connected with CAFNEC on Slack
3. Using Zoom effectively – headphone and camera check
4. Keeping up-to-date using CAFNEC's website
5. Catching up with friends old and new!
Come share ideas, build skills and meet other passionate folk!
WHEN: Tuesday 14th April, 5.30pm to 6.30pm
WHERE: ONLINE MEETING JOIN HERE https://zoom.us/j/449838298/
Meeting ID: 449 838 298
Password: 480352
HOW TO JOIN IN:
1. Click on the link – https://zoom.us/j/449838298/
2. You will be prompted to download the Zoom app., download Zip file and launch the program
3. The meeting password will be encrypted and included in the join meeting link to allow you to join with just one click without having to enter the password.
4. If the meeting hasn't started yet you will receive a message that says "the host has not started the meeting".
5. Once meeting has started the zoom window will appear where you can join your audio and video
6. Tada!
For any difficulties see: https://support.zoom.us/hc/en-us/articles/201362193-Joining-a-Meeting
Or email Aisha at getinvolved@nullcafnec.org.au
Everyone who wants to get connected with the CAFNEC community is welcome to join us. Even if you have some knowledge or experience with getting online and staying connected we urge you to join in and say hello! 🙂
WHERE: Join Zoom Meeting
https://zoom.us/j/449838298/
MORE INFO: Contact Aisha de Barros Lopes, Community Organiser – getinvolved@nullcafnec.org.au
We look forward to seeing you there!