Shoreline Video Assessment Monitoring
Interested in learning about Mangrove ecosystems?
Do you live near Trinity Inlet? Do you like Mangroves? Then this training is for you! We are seeking dedicated volunteers and coordinators in the communities parallel to Trinity Inlet to be trained up in data collection methods used to evaluate the health of mangroves.
The CAFNEC MangroveWatch program is a citizen-science partnership between communities and scientists to document changes in local mangrove habitats. Not only does MangroveWatch produce useful data for scientific research but it also involves the community in critical scientific processes, leading to an increase in public awareness and skill sets.
You don't need to possess a degree in science or have any experience working in the environment sector. We want to make this project accessible to as many as possible by sharing this project that is so easy to do you can learn the process in a matter of hours! This is a chance for you to become a leader in your community to advocate for a healthy estuary!
What skills will I learn?
At this workshop we will be learning about the values mangroves provide to our environment and our society, the threats they face broadly and threats specific to the Russell Mulgrave, and recommendations to enhance them.
We will also learn how to perform a shoreline video assessment method data capture. S-VAM is a peer-reviewed and recognised whole-of-system estuarine shoreline habitat condition assessment tool enabling spatial and temporal comparison of habitat extent, structure and condition used to identify and prioritise management actions conserving social and ecological habitat values and threats.
The equipment is easy to handle and the methods are easy to perform and replicate!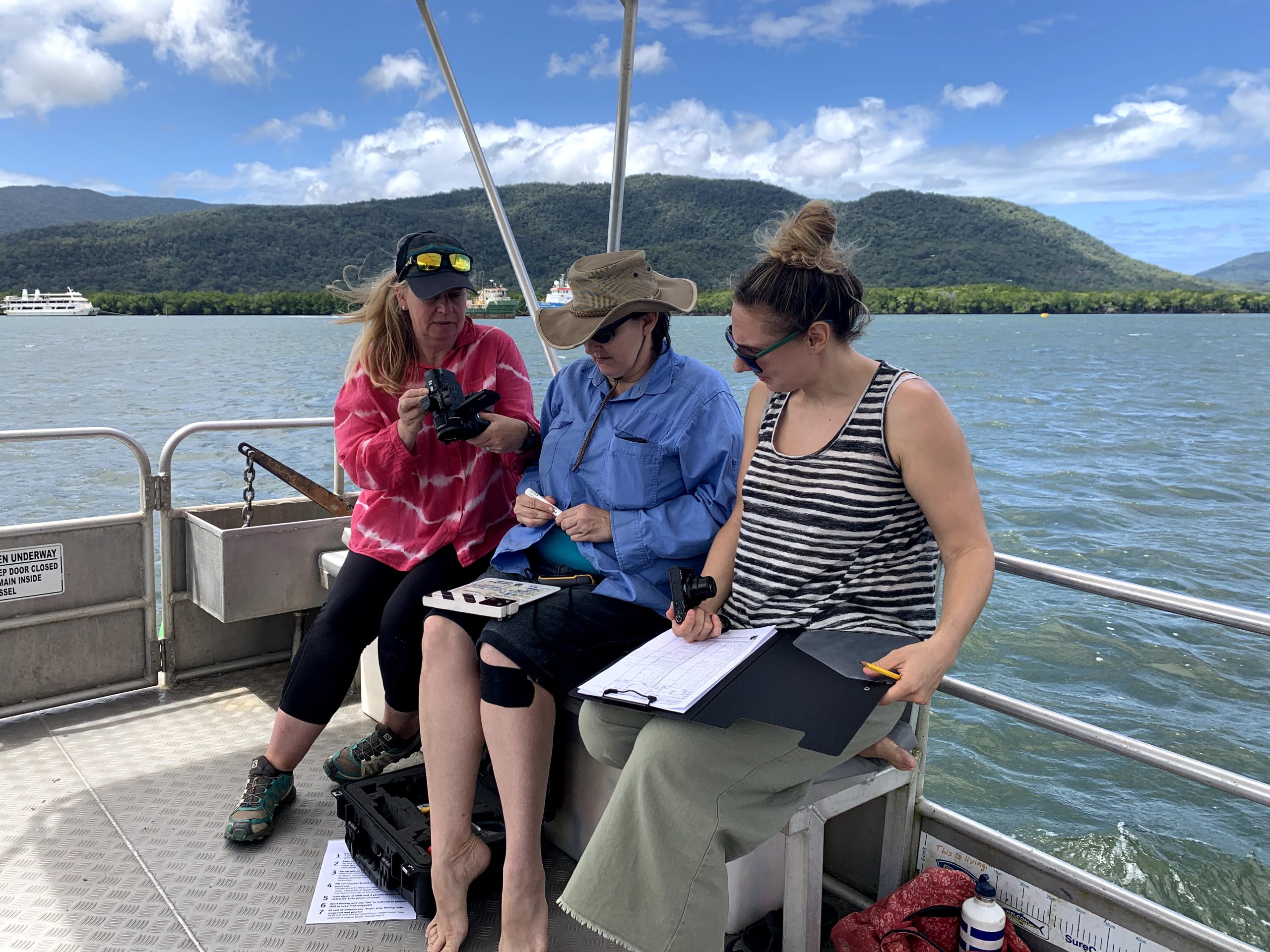 Trinity Inlet Training May 2022
Workshop Location and Dates:
Date: May 22nd, 2022 8:00 am – 3:00 pm
Training location: CAFNEC library at the Cominos House, 27 Greenslopes Street, Manunda, 4870
CAFNEC will host a presentation and training on the methods uses for MangroveWatch. We will be joined by mangrove expert Jock Mackenzie who will share his knowledge of these ecosystems and the methods developed to understand their values and threats.

After our presentation we will break for lunch, which will be catered.
At 12:30 we will meet at the Marlin Marina to launch the boat and apply the lessons we learned from the morning to a data collection session in the real world.
Please register you details if you are interested in attending the presentation. If you wish to attend the monitoring session on the boat, please note that spots are limited and you will have to contact Alex directly at projects@nullcafnec.org.au to secure your place.

Join us in the citizen science process to learn some new skills and work to protect our mangroves!