September 24 – October 1   2016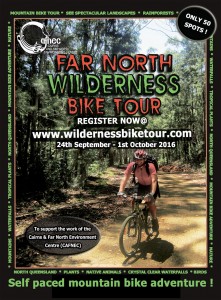 Registrations are now open for the 2016 Tour. Due to popular demand, rider numbers will be capped at 50, so get in early to guarantee your place!
In 2016 we'll have a new route which is currently being worked on. Details will be provided when it has been finalized. Needless to say it will include the spectacular landscapes of tropical north Queensland through rainforest and off-road tracks.
And please be assured that all things the Far North Wilderness Bike Tour is known for – friendly crew, fabulous food, camaraderie amongst riders, and most of all the spectacular scenery – will of course continue!
This is an unforgettable mountain bike adventure through the spectacular landscapes of tropical north Queensland.  The tour is an eight day, fully catered, self-paced bike event which is the ultimate way to explore the beautiful World Heritage listed rainforests, woodlands, waterfalls, and mountains that this region has to offer.  Our amazing bike tour includes:
Over 400kms on mostly remote dirt roads and tracks with minimal traffic
Spectacular scenery including waterfalls and gorges, rainforest and open forest – hard to access country that many locals have not seen
An intimate and friendly ride with a maximum of 50 riders
Fresh home-cooked meals and snacks
Charity event to support the important work of the Cairns and Far North Environment Centre
CHECK US OUT ON FACEBOOK
https://www.facebook.com/FNQBikeTour/

---
Related Posts
Volunteers needed: Bike Tour 2017! Preparations for CAFNEC's major annual fundraiser, The Far North Wilderness Bike Tour have begun for 2017.…